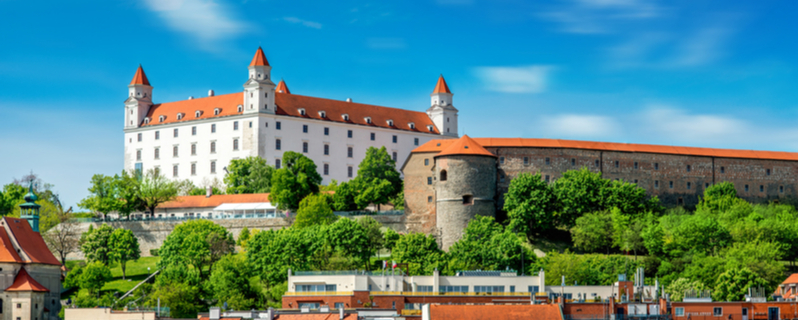 Bratislava is Slovakia's capital and largest city. With its castle sat on top of a hill overlooking the River Danube, its vast acres of vineyards, a growing financial centre downtown and a clash of medieval, communist and contemporary architecture, Bratislava is one of Europe's most fascinating countries. It is the ideal city getaway for families, couples, friends - you name it!
Cheap Holidays to Bratislava

Cheap holidays to Bratislava are available from most major airports in the UK and since the route is really starting to gain traction, more and more flights to here are leaving the UK each day. Bratislava has its own international airport, with the main city being just a short connection away. Make sure you check the CheekyTrip comparison site for more fantastic deals to European gems like this one. Direct flight duration to Bratislava is just over 2 hours long.

The most popular period in Bratislava is the spring to autumn period - namely May till around October time - with temperatures often reaching the high 20s and even into the low 30s on occasion. Despite being a capital city, Bratislava rarely gets overly busy, which is one of its major pro points. Although the spring and summer months see most of the tourist activities taking place, autumn and winter are also great times to go. As with most major European cities, there is a fantastic Christmas market in the city's main square each year.

There is a wide range of incredible things to do and see in the city of Bratislava. Bratislava Castle is one of the most prominent sights. It has a rich history and enjoys impressive views over both the River Danube and the rest of the city. Speaking of the river, there are a number of boat tours that can be taken to both nearby towns and other major European cities. The Danube travels through 10 different countries, with Bratislava being just one stop for many cruises. There are walking tours, some of them free, for seeing the major sights of the city and getting around by tram is the most efficient (and traditional) way of seeing and doing everything.

Bratislava is one of the cheapest European cities and as a result, often offers the best value for money on all types of accommodation. If you still want to do the city on the cheap, there are plenty of hostels to choose from. For a mid-range stay, hotels, apartments and B&Bs are available. If your budget is a bit more flexible, there are a few luxurious stays to choose from too. As well as international favourites, many restaurants also incorporate Slovakian classics into their menus including a potent garlic soup served inside a thick piece of bread as well as the national dish which involves dumplings with sheep's cheese with pieces of meat on top.

If you are looking for a very affordable holiday to Bratislava in Slovakia, we can certainly help you out. Cheekytrip is a price comparison site with holiday offers from over three dozen travel companies. Since they are all keen for your business, prices are very competitive. To find the best deal, simply enter your dates, destination and point of departure into our search engine and within a matter of minutes, we'll find you the Bratislava holiday that works for you. As offers and prices change daily, it's best not to wait around for too long. Go ahead and book now.
---
Share this article
Advertisement