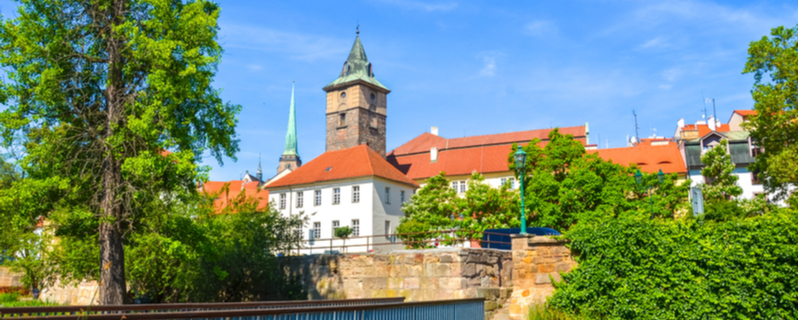 Plzen is a charming town in the Czech Republic that is well-connected to the capital of Prague as well as other major cities in Central Europe. It is the home and birthplace of the Pilsner beer and you will find plenty of great opportunities to sample some in Plzen. There is plenty to do and see in Plzen, so we recommend it to all types of travellers.
City Breaks in Plzen

Cheap holidays to Plzen are very readily available and the Czech city can be reached from most regional airports in the UK. Plzen itself is best reached from Prague Airport and then a short train journey from there. Make sure you check the CheekyTrip comparison site for more low-cost holidays to this part of Europe. Direct flights to Prague tend to be around 2 hours long which is ideal for getting your holiday kick-started as soon as possible!

Plzen is at its busiest throughout the summer period - from spring until autumn - but never gets too busy at any time of year. Temperatures reach the mid-high 20s on most days throughout this period making it a very reliable destination for some summer warmth. Prices tend to be slightly cheaper outside of these months over the winter period. This is also a fantastic time to go as the city erects its Christmas market and there are many other festive activities to take part in.

One of the best sights to see in Plzen is the impressive Cathedral of St. Bartholomew. The gothic cathedral was built in the 13th-century and its bell tower is the tallest in the country. The Pilsner Urquell Brewery is where you will want to head to discover the home of the Pilsner beer. There are plenty of activities in Plzen that involve simply enjoying the beautiful scenery of the city. Plzen has a number of city parks that circle the historical city centre that are well worth your time and perfect for getting some fresh air in nature.

Plzen has a good selection of accommodation options to choose from for visitors on any sort of budget. There are cheap hotels, mid-range ones and high-end ones for those travelling with a bit more cash. The Czech Republic itself isn't a particularly expensive country so a pricier option may be more viable than you think. There are a number of great restaurants dotted around the city that provide anything from traditional Czech dishes to international favourites like pizza and ice cream.

If you are seeking an affordable holiday to Plzen in Czech Republic, we can certainly be of service. Cheekytrip is a price comparison site with holiday offers from over three dozen travel companies. Since they are all competing for your custom, prices are very competitive. To find the best deal, simply enter your dates, destination and point of departure into our search engine and within a matter of minutes, we'll find you the Plzen holiday that provides the best value for money. As offers and prices change daily, it's best not to delay. Book now!
---
Share this article
Advertisement