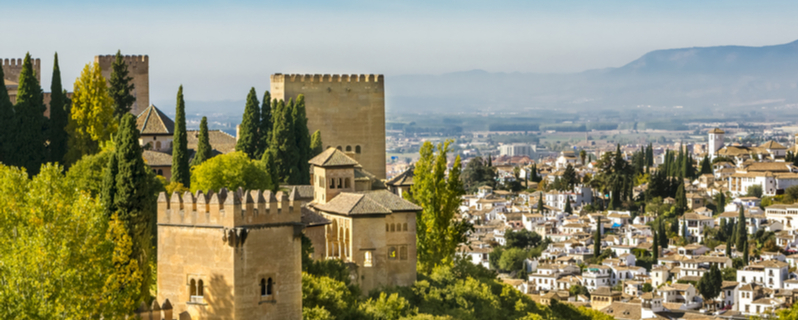 Granada is situated in the south of Spain in the Andalusia region and has an extremely rich culture and history to explore. As one of the last places to be occupied by the Moors in Spain, Granada still has a heavy, mid-century Muslim influence with the grand Alhambra palace and many other sights and points of interest around the city. It has been continuously inhabited for over 2500 years, and every settler has managed to leave their mark in some way.
City Breaks in Granada

Cheap holidays to Granada are available from a few major airports in the UK. Granada has its own international airport which is perfect for flying into if your local airport has direct flights to the city. If not, you might have to fly to somewhere like Malaga and get a transfer from there. Check our comparison site for more amazing city deals from around Europe. Direct flights to Granada usually last just under 3 hours.

Spring and autumn are the two times of year that you will probably want to target a trip to Granada. These seasons provide the most comfortable temperatures which allows you to maximise all of the activities that the city has to offer. The summer months can get extremely hot with temperatures exceeding 40C. In the winter, temperatures drop off completely and can hover around 0C, perfect for taking advantage of the nearby ski resorts.

Granada is full of amazing activities to do and one of those is to simply take a relaxing stroll through the city's historic centre. Here you will find shops, bars, restaurants, markets and a number of plazas with their own distinctive charm. The standout attraction in Granada though is definitely the magnificent Alhambra Palace. The impressive fortress complex is a UNESCO World Heritage Site and is part fortress, part palace, part garden and part government city. You can spend a good chunk of your day here! Another honourable mention in this city are its Hammam Arab baths for a bit of relaxation.

The city provides a wide range of accommodation to suit anyone's preferences and budgets. There are hostels in the centre of town all of the way up into the surrounding hills. Standard hotels and more luxurious options are available in the town centre too. This is also where you will find most of the city's restaurants, including many tapas bars which provide free tapas with each drink you order!

If an affordable city break to Granada in Spain sounds like your sort of holiday, we can certainly help you out. Cheekytrip is a price comparison site with holiday offers from over three dozen travel companies. Since they are all keen for your business, prices are very competitive. To find the best deal, simply enter your dates, destination and point of departure into our search engine and within a matter of minutes, we'll find you the Granada holiday that works for you. As offers and prices change daily, it's best not to wait around for too long. Go ahead and book now.
---
Share this article
Advertisement