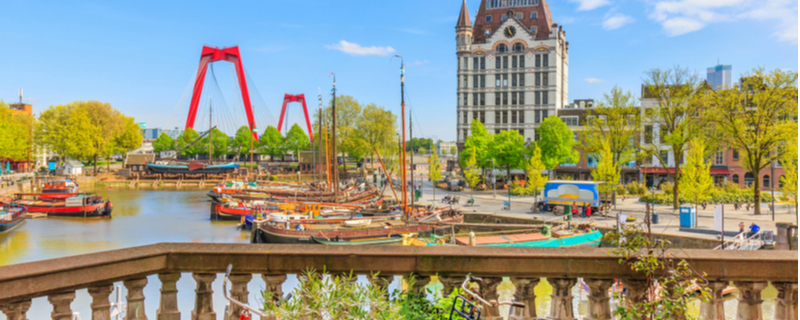 Rotterdam is the second largest city in the Netherlands with a population of around 640,000 people. It is known for many things including its industrial riverside setting, its Erasmus University, for being a cultural melting pot and its range of incredible summer events for travellers of all tastes and backgrounds. There is always something exciting happening in Rotterdam!
City Breaks to Rotterdam

Affordable holidays to Rotterdam are available from most major airports in the UK and since the city is so well loved by tourists from here, there is bound to be a departure time that suits you. The best way to reach Rotterdam is to fly to Rotterdam The Hague Airport, with the rest of the city just a stone-throw away from there. Make sure you check the CheekyTrip comparison site for more fantastic deals to this part of the world. Flight duration to Rotterdam is usually around an hour long from most UK airports.

The best time to visit Rotterdam is usually considered to be anytime from April until October with temperatures at their most pleasurable but rarely getting too hot. Climate is at its most steady during these months and the city truly comes alive in the spring and summer time with events, festivals and the like. Although tourist numbers do tend to spike during these months, there is very rarely a feeling of overwhelm in the city.

One of the best things to do in Rotterdam is to visit one of the city's famous windmills, although there are only a few left remaining. Of these, Der Ster and Der Lelie are the only two that are regularly open to the public. As well as being very photo-friendly, these windmills still do their original job of grinding ingredients for spices and snuff tobacco. Botanische Tuin Kralingen is the city's botanical garden which is known for its wide selection of medicinal plants. Just a few other noteworthy attractions in Rotterdam include museums, cinema, festivals and skydiving!

There are a variety of ways to stay in Rotterdam which completely depend on your own budget and preferences. You can get the raw, cheap and exciting experiences of camping or staying in a hostel. There is an abundance of standard hotels if you are happy with comfortable or there are some lavish hotels if you want to sample the city in style. The same is very much true of dining out in Rotterdam, with everything from budget meals to mid-range restaurants to aspiring Michelin-star venues.

If you are looking for a budget holiday to Rotterdam in the Netherlands, we can certainly help you out. Cheekytrip is a price comparison site with holiday offers from over three dozen travel companies. Since they are all keen for your business, prices are very competitive. To find the best deal, simply enter your dates, destination and point of departure into our search engine and within a matter of minutes, we'll find you the Rotterdam holiday that works for you. As offers and prices change daily, it's best not to wait around for too long. Go ahead and book now.
---
Share this article
Advertisement