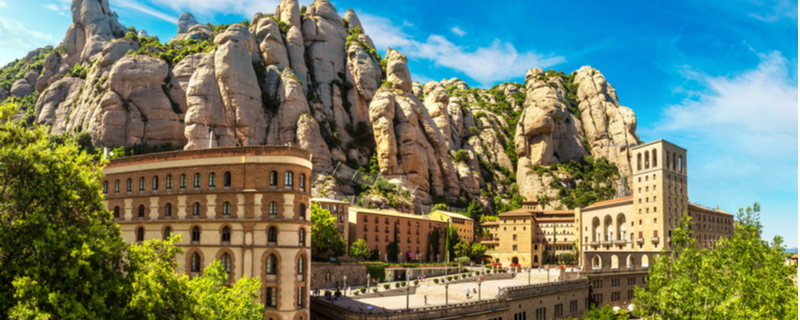 Montserrat is a multi-peaked mountain in Catalonia, Spain and is one of the region's most important religious retreats. People climb the mountain to visit the spectacular Santa Maria de Montserrat monastery in search of a tranquil and enlightening experience. As beautiful as the monastery is, it is a bit of a shame that it is surrounded by touristy shops and stands which can ruin the atmosphere.
City Breaks to Montserrat

Exclusive holidays to Montserrat are available from most major airports in the UK and since the route to Catalonia is so popular, there is no shortage of flights to get you there. Montserrat is very easy to reach, being located just 48km from Barcelona with a number of train, car and bus services to get you there. Make sure you check the CheekyTrip comparison site for more great deals to some gorgeous, tucked-away destinations like this one. Flight duration to Barcelona is around 2 hours from most UK airports.

The best time to visit Montserrat is generally considered to be from March to May and from September to November. These are the times when the weather is calm and steady and the crowds are (slightly) less busy than other times of the year. The summer months are not only extremely hot but the levels of tourism are also much higher. It is also advisable to visit Montserrat during the week, as weekends and especially Sundays, can get overcrowded.

The main attraction to Montserrat is the Monastery and the Black Virgin of Montserrat. This place is also home to the l'Abadia de Montserrat, a publishing house, which is the oldest press in the world and is still running. The first book published here was in 1499. The Virgin of Montserrat itself features a statue of the Virgin Mary and the infant Christ, as well as one of the two patron saints of Catalonia. The best things to do in Montserrat aren't just limited to the monastery though, with four main hiking trails in the surrounding area which provide scenic views of Catalonia and even as far as the island of Majorca.

The accommodation options here are very limited and there are no places to stay on the mountain itself. Most people try to find accommodation in one of the nearby towns or much more conveniently, find a place in Barcelona and commute for a day-trip to Montserrat. Although there is one simple bar/cafe at the rail station, it is highly recommended that you bring a packed lunch to this place as it not only saves money but a lot of hassle.

If you are looking for a budget-friendly getaway to Montserrat in Spain, we can certainly help you out. Cheekytrip is a price comparison site with holiday offers from over three dozen travel companies. Since they are all keen for your business, prices are very competitive. To find the best deal, simply enter your dates, destination and point of departure into our search engine and within a matter of minutes, we'll find you the ideal Montserrat holiday. As offers and prices change daily, it's best not to wait around for too long. Go ahead and get booking!
---
Share this article
Advertisement