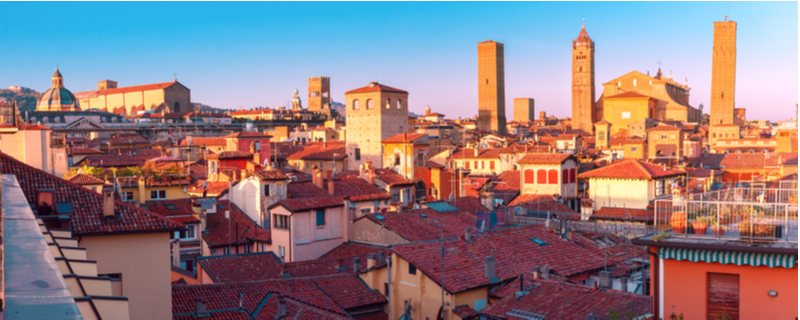 Bologna is one of Italy's most historical cities and even boasts the oldest university in the western world. It has delicious food to try, the typical terracotta-roofed architecture to marvel at and a vibrant nightlife. Not much English is spoken in this city so if you are seeking an authentic and beautiful Italian experience, Bologna is definitely your city to visit.
Budget Friendly Holidays to Bologna

Budget-friendly holidays to Bologna are starting to become more popular with tourists from the UK. The best way to reach Bologna is to fly to its own International Airport: Guglielmo Marconi. However, there aren't a load of direct flight options to here from the UK so you may have to get a connecting flight. Check the Cheeky Trip comparison site for our full selection of holidays to incredible European destinations like this one. Direct flights to Bologna (mainly from London) are just over 2 hours long.

Bologna experiences its best time to visit from March/April until October. This period is the perfect time to do as the locals do which includes sipping on local wine in the outdoors and relaxing in city squares such as Piazza Santo Stefano and Piazza Maggiore. If you want to explore all that the city has to offer, it is probably best to avoid the months of July and August. Not only is this is an extremely hot period of the year, many shops and businesses are closed during August for their summer holidays.

There are plenty of spectacular sights to see in Bologna and it is difficult to get them all mentioned in this short overview of the city. You will find a number of Palazzos around the grand Piazza Maggiore, ancient tombs, medieval towers, canals and plenty of museums with deep history of the region as well as from around the world including the Museo Civico Archeologico. This is home to a collection of antiquities from ancient Egypt, the Iron Age, ancient Rome and much more! Another notable mention in Bologna is the Bologna Fiere. This exhibition centre hosts an International Automobile Exhibition every year.

Bologna is the ideal place for tourists in terms of accommodation and the city has long been known for its warm hospitality to outsiders. If you are a bit cash-strapped, there are a number of bed & breakfasts to choose from that are located around the city. Mid-range hotels dominate the rest of the options, all of which provide a very comfortable and convenient stay. There are a few splurge options too, including the Grand Hotel Baglioni. Often considered to be the gastronomic centre of Italy, you are almost guaranteed an incredible meal wherever you turn in Bologna.

If you are looking for a good-value city break to Bologna in Italy, we can certainly help you out. Cheekytrip is a price comparison site with holiday offers from over three dozen travel companies. Since they are all keen for your business, prices are very competitive. To find the best deal, simply enter your dates, destination and point of departure into our search engine and within a matter of minutes, we'll find you the Bologna getaway that is perfect for you. As offers and prices change daily, it's best not to wait around for too long. Book with us today!
---
Share this article
Advertisement