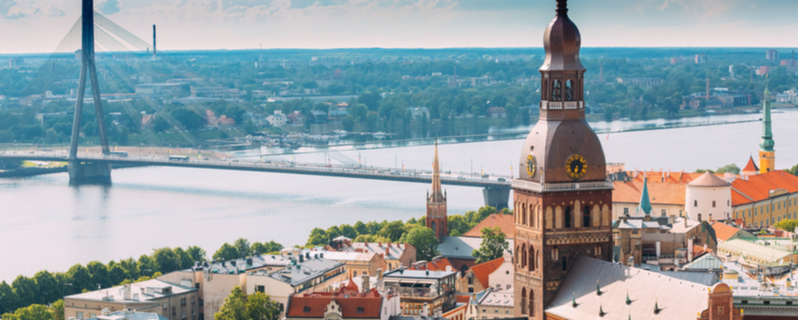 Riga is the capital city of Latvia and is not just the capital in the political sense; the city is also the financial, cultural and creative centre of the country and provides a very exciting and pleasant European adventure. Since the city has been a part of many empires throughout its history, it has many marks and scars to show from it - making Riga a must-visit for all you history buffs out there.
City Breaks to Riga

Low-cost holidays to Riga are very readily available and the region can be reached from a few UK airports. The city of Riga has its own international airport with the rest of the city and metropolitan area just a short journey away from there. Make sure you check the CheekyTrip comparison site for more affordable holidays to incredible European capitals. Direct flights to Riga are usually in the region of two and a half hours.

Riga is a great all-year-round destination that experiences the full range of seasons. The most popular time to visit the city is during the warmer months - from May until October - as this is when there is the most activity in and around Riga. The shoulder seasons are probably your best bet if you want to explore the city in more comfortable temperatures. Winters can get quite cold but also very festive, with the city boasting a fantastic Christmas market.

The city is packed with things to do and see for people of all ages and backgrounds. If you are searching for a high-octane holiday, Riga and its surrounding regions are known for adrenaline sports. Some of these include bungee-jumping, paintballing, driving 4x4's off-road and shooting AK-47 guns! If those crazy activities aren't your thing, you can completely swing the other way and enjoy a really peaceful and relaxing time in Riga. Opera or ballet shows are available in the National Opera house and the city also has several pleasant parks, ideal for a scenic stroll no matter the time of year!

As the capital city of the country, Riga provides a wide range of accommodation options for visitors to choose from. Most of the budget choices lie to the eastern half of the old-town and near the railway station. For more upscale options, you will want to head to the core of Vecriga and around the Esplanade Park in Centrs. Great places to eat are located all over the city and there are countless opportunities to both try some local cuisine and international favourites.

If you are seeking a cheap holiday to Riga in Latvia, we can certainly help. Cheekytrip is a price comparison site with holiday offers from over three dozen travel companies. Since they are all competing for your custom, prices are very competitive. To find the best deal, simply enter your dates, destination and point of departure into our search engine and within a matter of minutes, we'll find you the Riga holiday that provides the best value for money. As offers and prices change daily, it's best not to delay. Book now!
---
Share this article
Advertisement