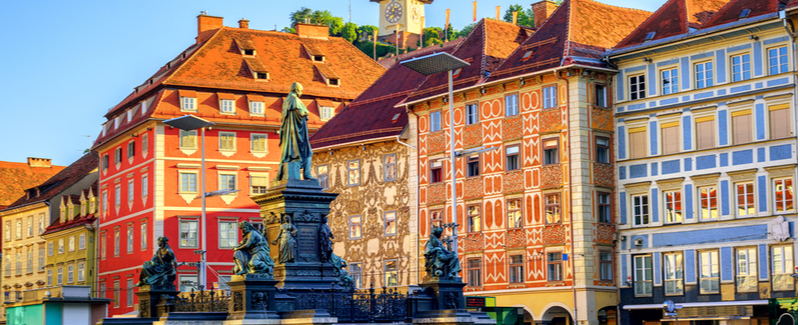 Graz is Austria's second largest city with around 300,000 inhabitants. The city combines old architecture and a rich past with some very modern facilities, including many that cater to the city's six different universities. Graz has also produced some famous faces over the years; from Hollywood actor Arnold Schwarznegger to inventor Nikola Tesla.
Cheap Holidays to Graz

Cheap holidays to Graz are available from a few major airports in the UK. Graz has its own international airport which is perfect for flying into if your local airport has direct flights to the city. If not, you might have to fly to somewhere like Vienna or any other major European hub and get a transfer from there. Check our comparison site for more amazing city deals in Central Europe. Direct flights to Graz usually last around 3 and a half hours.

The best time to target a trip to Graz is between the months of April and September. These are the warmest and most pleasant months of the year in terms of temperatures but they also tend to be the wettest - so bring an umbrella! The winter can also be a fantastic time of year to visit Graz with its number of cosy restaurants to escape from the cold and its festive Christmas market.

There are a number of wonderful sights to see in Graz. The historic old town has been listed as a World Heritage site and is definitely worth a few photos. The Schlossberg is the grand castle perched up on the hill of the city. Although there is a lift to reach the castle, we recommend taking the wooden stairs as the views on the way up are phenomenal! Some of the other great things to see and do in Graz include its old churches, wide selection of museums and during the summer, there are a number of outdoor swimming pools in the city to enjoy.

Graz offers a wide variety of accommodation options although the price of a hotel is usually proportional to how close to the city centre you are. The budget stays are all located outside of the city whereas the mid-range and more expensive ones are closer to or in the city centre. The gastronomy in this city is superb and also very reasonably priced. All restaurants have cheap lunch deals and or a dish of the day that are not only tasty but will save you a good amount of money to spend elsewhere.

If an affordable city break to Graz in Austria sounds like your sort of holiday, we can certainly help you out. Cheekytrip is a price comparison site with holiday offers from over three dozen travel companies. Since they are all keen for your business, prices are very competitive. To find the best deal, simply enter your dates, destination and point of departure into our search engine and within a matter of minutes, we'll find you the Graz holiday that works for you. As offers and prices change daily, it's best not to wait around for too long. Go ahead and book now.
---
Share this article
Advertisement