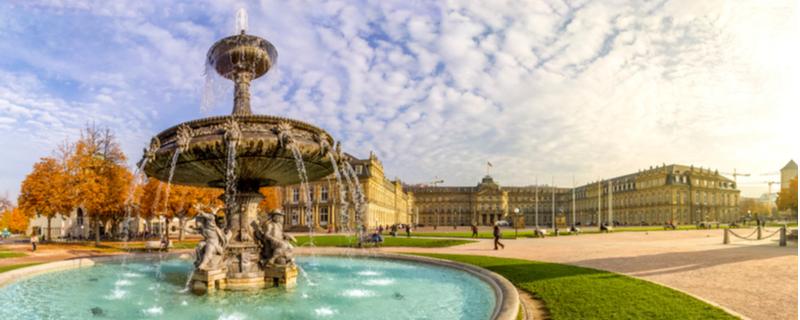 Stuttgart is Germany's 6th largest city. It is known for its industrial power, being home to the headquarters of the world-famous Bosch, Mercedes and Porsche brands. However, it isn't just industry that you will find here with the metropolitan area also boasting valleys, forests, parks and even some vineyards to check out!
Stuttgart City Breaks

Budget-friendly holidays to Stuttgart are very readily available and the region can be reached from most airports in the UK. Stuttgart has its own international airport to fly to, with the city itself being just a short journey from there. Make sure you check the CheekyTrip comparison site for more fantastic deals to your favourite European cities. Direct flights to Stuttgart tend to be around 1 and a half to 2 hours long, depending on where you fly from in the UK.

Stuttgart is a wonderful year-round destination to visit. Many consider May to September to be their favourite time to explore the city as temperatures are very pleasant at this time of year and the skies tend to remain clear. Temperatures can soar in June and July so this could be the European hotspot that you never knew about it! The winters get cold here but if you wrap up, you can still do a lot of exploring of the city including their famous Christmas markets. All in all, it is more or less always a good time to visit Stuttgart.

One of the best places to relax and soak up the atmosphere in the city is Schlossplatz (palace square). It was initially created as parade grounds for the palace and now contains a public green area with lawns, twin fountains and gorgeous flower beds. Altes Schloss (Old Castle) is another great site to put on your to-do list. It was built as a fully-functional castle at the turn of the 10th century and now houses a museum. One of the most unique sights in Stuttgart is the prominent Fernsehturm Stuttgart. It was the world's first TV tower constructed from reinforced concrete and is the prototype for all modern TV towers. It completely dominates the skyline and is best pictured at night time!

Stuttgart provides a range of excellent accommodation options to choose from, with everything from budget-friendly choices to luxury hotels if you want to splurge on your European city break. There are also plenty of mid-range hotels if you prefer something in between. In terms of dining out, there are restaurants all over Stuttgart providing a mixture of local and international cuisine. We recommend the traditional Swabian cuisine with onion-topped roast pork which is delicious!

If you are seeking a cheap and cheerful holiday to Stuttgart in Germany, we can certainly help you out. Cheekytrip is a price comparison site with holiday offers from over three dozen travel companies. Since they are all competing for your custom, prices are very competitive. To find the best deal, simply enter your dates, destination and point of departure into our search engine and within a matter of minutes, we'll find you the Stuttgart holiday that provides the best value for money. As offers and prices change daily, it's best not to delay. Book now!
---
Share this article
Advertisement