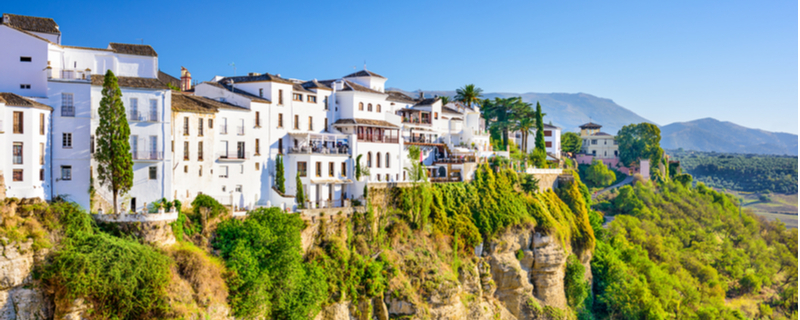 Ronda is a town in Malaga, Spain that serves as a perfect retreat from most of the tourist-ridden spots on the country's south coast. It is an extremely picturesque town with its white-washed buildings and impressive bridge, accompanied by a very friendly atmosphere. It is an especially attractive destination for couples and those travelling in smaller groups.
City Breaks to Ronda

Affordable holidays to Ronda can be reached from most major airports in the UK. Flights to Malaga are very readily available and from there, the town of Ronda is just a short commute away. Check our comparison site for more sunny Spanish retreats at the best prices. Direct flights to Malaga are around 3 hours in length.

As is the case with many southern Spanish cities, Ronda is at its best for visiting during the spring and the autumn. These are the periods of the year where the temperatures are pleasant and the climate settled. Although the town's hottest months are during the summer, it can become overwhelmingly hot in this part of the world which forces you indoors out of the midday sun. Winter is still a beautiful time to visit, although there are less tourist facilities open.

One of Ronda's most iconic sights is the Puente Nuevo. This huge bridge over the Tajo gorge stands at a height equivalent of a 30-storey building! It connects the quarter of La Ciudad with the Mercadillo. Other great things to do in Ronda include a visit to the Interpretation Center of Ronda Wine. This old winery is now a museum of wine which offers wine tasting and vineyard tours at a cheap price. Hiking is also a popular activity in the region around Ronda, with 8 beautiful routes starting in the town.

Despite Ronda being a relatively small town compared to the likes of Malaga itself, it still manages to fit plenty of accommodation options into a small place. On some streets, there are more hotels than non-hotels! There are hostels, mid-range and even some luxurious choices in the town for you to pick from. Like with the hotels, there are plenty of places to eat out. However, we advise that you stay away from the touristy parts of the town as they are often overpriced - keep an eye out for the smaller cafes and bars!

If a cheap and exciting city break to Ronda in Spain sounds like your sort of destination, we can certainly help you out. Cheekytrip is a price comparison site with holiday offers from over three dozen travel companies. Since they are all keen for your business, prices are very competitive. To find the best deal, simply enter your dates, destination and point of departure into our search engine and within a matter of minutes, we'll find you the Ronda holiday that works for you. As offers and prices change daily, it's best not to wait around for too long. Go ahead and book now.
---
Share this article
Advertisement