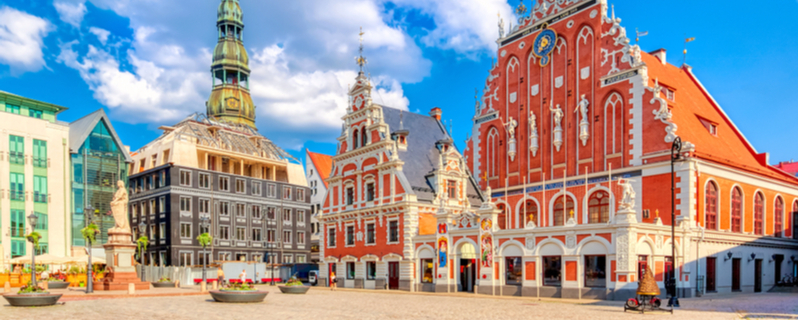 Latvia is one of Europe's lesser-explored destinations, but it is starting to gain popularity due to its impressive nature reserves and waterways, it's fascinating open-air museums and its selection of towns and cities to visit, each of which are steeped in their own culture and traditions. The capital of Latvia is Riga, which has much pride in its past whilst also having a firm foot in the modern and developing world. When it comes to city breaks in this wonderful country, Riga is definitely our pick of the bunch.
Compare Holidays to Latvia
There is perhaps no better place to begin than with the capital. A wander through Town Hall Square in Riga is like stepping into a time machine with the Latvian Occupation Museumand the Baroque Clock Tower both parts of the town hall itself. If you are visiting in the winter, this is where you will find the city's grand Christmas tree. Another great place to visit is Ventspils and in particular, its Seaside Open Air Museum. Dedicated to fishing and boating, the museum has an impressive 24,000 exhibits on display. The outdoor section features 4 hectares that is dedicated to teaching people about ancient fishing techniques which is truly fascinating! A walk down one of Latvia's most famous and picture-perfect streets is also a must if you get the opportunity. The street of Jauniela is cobbled like many streets in this country and the buildings are all coloured differently to create the picturesque and charming backdrop.
In terms of accommodation in Latvia, you will find a range of options to choose from. The capital of Riga definitely offers the widest variety with hotels, apartments and B&Bs. However, the more you travel away from the tourist capital the more likely you are to find fewer and smaller accommodation options. This might be perfect though if you are looking for an authentic taste of the country and its culture. The story is similar in terms of eating and drinking out. Riga is the best option for a slightly wider range of cuisines as well as traditional Latvian dishes. Anywhere outside of Riga you are likely to only stumble across some of the Latvian favourites which include Grated Potato Pancakes and Minced Meat Patties.
The holiday season in Latvia lasts from April until around October however the country never gets exceptionally busy with tourists. Temperatures only peak at around the low 20s in the summer and often go below zero in the winter. In this sense, it is a very traditional mid-continent European destination! In order to reach Latvia and its many wonderful attractions, your best bet is to fly to Riga from a UK regional airport and then get a transfer to wherever you need to be from there.
If you are looking for the very best Latvia holiday deal, we can certainly help you out. You can save both time and money by using us as your price comparison site. We have access to the best holiday offers from all of the market leaders in the travel industry. Since they are all vying for your booking, you can be sure that prices are very competitive, and you are certain to get a bargain. All you need to do is enter your point of departure, your dates and destination and within a few seconds, we'll show you the Latvia holiday that costs the least. Since offers change daily if you wish to avoid missing out, ring and book without delay.
---
Share this article
Advertisement