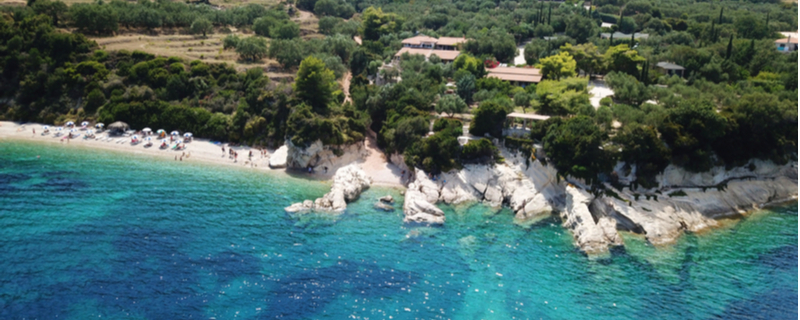 Located in the southwest of Corfu is Marathias; a beautiful beach resort known for its soft sands, scenic views and lively atmosphere. The town is located around 30km from the city of Corfu and is within touching distance of other fantastic resorts including Argyrades and Santa Barbara Beach. It is a top destination for families and couples.
Budget Friendly Holidays to Marathias

Budget-friendly holidays to Marathias are very readily available and the region can be reached from most regional airports. The resort of Marathias is located around a 50-minute drive away from Corfu airport. Make sure you check the CheekyTrip comparison site for more fantastic deals to this beautiful part of the world. Direct flights to Corfu tend to be around 3 hours long and with less than an hour transfer time on the other side, you can waste no time in getting your dream holiday underway!

Marathias is at its busiest and best from spring until autumn. Temperatures reach the high 20s and into the low 30s on most days throughout this period making it a very reliable destination to visit in that sense. Prices tend to be slightly cheaper outside of these months from autumn to spring. However, with most of the tourist facilities closed or with reduced hours, you may find that there is significantly less to do in this resort at this time of year.

By far the biggest attraction to this wonderful resort is its beach area. It has plenty of sun loungers and umbrellas to choose from as well as offering a selection of water sports to try out for its visitors. The waters are crystal clear and fairly shallow for a good distance out, meaning weak and non-swimmers have plenty of space to enjoy themselves in the water too. The resort also serves as a fantastic hub for exploring other superb locations on the island.

There are several accommodation choices to pick from in Marathias, with most of them being located right by the beach. Not only will you enjoy some stunning views from these places, you will save a decent amount of money as they are quite affordable. Standard hotels, villas and apartments are what you can expect from this resort. There is also a good selection of restaurants in the region, most of which serve up traditional Greek cuisine as well as some international favourites.

If you are seeking a cheap holiday to Marathias in Corfu, we can certainly help you out. Cheekytrip is a price comparison site with holiday offers from over three dozen travel companies. Since they are all competing for your custom, prices are very competitive. To find the best deal, simply enter your dates, destination and point of departure into our search engine and within a matter of minutes, we'll find you the Marathias holiday that provides the best value for money. As offers and prices change daily, it's best not to delay. Book now!
---
Share this article
Advertisement