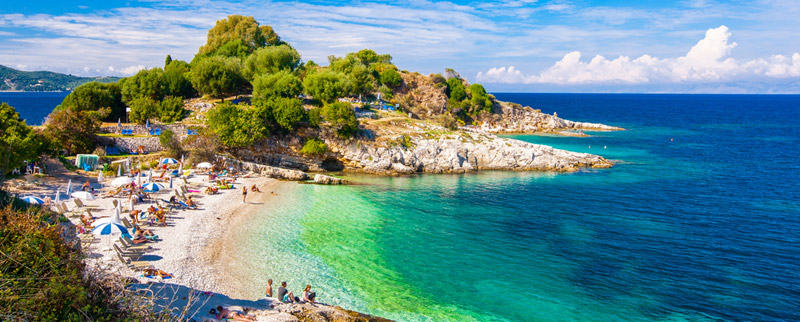 Apraos is a stunning resort located on the north east coast of Corfu. The town of Apraos is very quiet with not a whole lot going on but it is the beach area just outside of the town that is the big tourist attraction. Apraos beach is also referred to as Kalamaki beach but both names refer to the same place. This destination is perfect for anyone who likes to basically live on the beach while they are away.
Cheap Holidays to Apraos

Cheap holidays to Apraos are becoming increasingly popular and the region can be reached from most airports in the UK. There are direct flights to Corfu Airport and from there, the resort is around a 1-hour drive away. Make sure you check the Cheekytrip comparison site for budget friendly holidays from your local airport. Direct flights to Corfu are usually around 3 hours long.

The resort is at its most lively during the summer period that runs from spring until autumn but never gets overwhelmingly busy. Temperatures tend to reach at least the high 20s and often the lower 30s throughout these summer months. Prices are usually a little bit cheaper from autumn to spring. However, much of the tourism here is focused around the vibrant summer months and around the beach so we recommend a visit during this time of year.

If you are travelling to Apraos, you definitely want to perch yourself in and around the beach area as much as possible. It is perfect for kids with plenty of room to play in the sand and the sea is shallow for a good distance, making it one of the safest beaches for them to have a swim in the sea. Sunbeds are not too tightly packed on this beach either meaning you can relax in the sun away from the crowds if you value a bit of peace.

The best accommodation choices in Apraos, as you might expect, are located down by the beach. Here you will find a number of standard hotels that are friendly on the purse strings. There are also a few apartments to choose from if that is more your style. In terms of dining out, there are some restaurants that function as beach cafes with their own parasols and section of beach. Expect plenty of seafood specialities and tasty local ingredients used in most dishes.

If you fancy a budget holiday to Apraos in Corfu, we can certainly help. Cheekytrip is a price comparison site with holiday offers from over three dozen travel companies. Since they are all competing for your business, prices tend to be very competitive. To find the best deal, simply enter your dates, destination and point of departure into our search engine and within a matter of minutes, we'll find you the ideal Apraos holiday. As offers and prices change daily, it's best not to delay so go ahead and book now!
---
Share this article
Advertisement