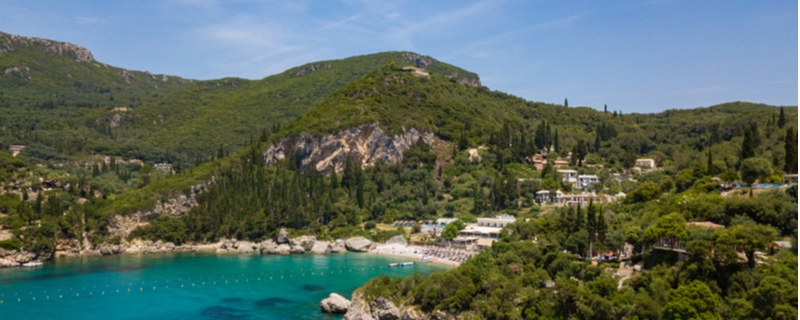 Situated on the west side of Corfu, Liapades is a sleepy village located around 20km from Corfu Town. It is a beautiful, traditional part of Corfu with around 1000 residents and very little tourism. It is the perfect getaway for those seeking some sunshine away from the masses of tourists in other parts of the island.
Low Cost Holidays to Liapades

Low-cost holidays to Liapades are still very popular and the region can be reached from most regional airports in the UK. The resort itself is situated around a 30-minute drive away from Corfu airport. Make sure you check the CheekyTrip comparison site for budget holiday deals. Direct flights to Corfu tend to be around 3 hours long so a morning flight is great for having the rest of the day to enjoy.

The best time to visit this resort is definitely the summer period as there isn't much to do when the temperatures start to cool down in the winter months. Temperatures tend to reach the high 20s and even into the low 30s throughout the summer months whilst the period between Autumn to Spring drops to the low teens. The summer period is also when there are the most tourist facilities open and when the beach is at its vibrant best - so don't miss out!

The beach is one of the main attractions to this village due to its high quality and peaceful nature. The whole tourist area of Liapades is focused in an area just off from the beach, only 800 metres from the centre of the village. The secluded beach is ideal for soaking up some sun and the calmness of the water is perfect for a swim or just somewhere to cool off! Whilst there isn't much in the village itself, it is still worth a wander through and perhaps a stop off in a cafe.

Because of the small size of Liapades, the accommodation options in the village are fairly limited. There are a few picturesque hotels with top-quality facilities but they are also smaller in size compared to most places. There are villas to rent out too which is always a great option. In terms of dining out, there are a few eateries dotted around the town as well as beach cafes for grabbing a quick snack and refreshments.

If you are looking for an affordable holiday to Liapades in Corfu, we can certainly help. Cheekytrip is a price comparison site with holiday offers from over three dozen travel companies. Since they are all competing for your business, prices tend to be very competitive. To find the best deal, simply enter your dates, destination and point of departure into our search engine and within a matter of minutes, we'll find you the ideal Liapades holiday. As offers and prices change daily, it's best not to delay so go ahead and book now!
---
Share this article
Advertisement