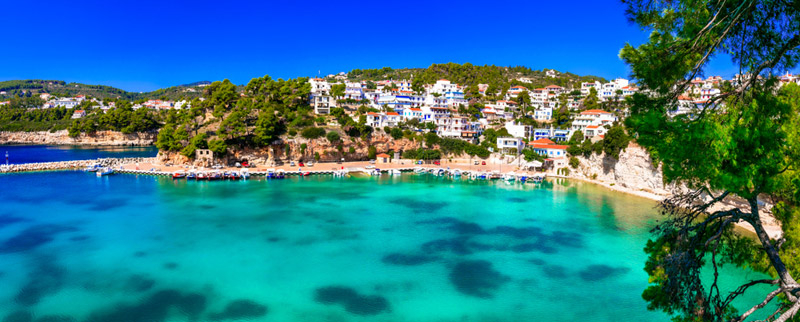 Alonissos is one of the least populated and visited of the Sporades Islands of Greece and the island is located just 2km away from the more popular destination of Skopelos. It is a very quiet and peaceful getaway, with most of the resort's activity centred around the island's main village. You can expect a very authentic stay here in an area that is relatively untouched by tourism.
Budget Friendly holidays to Alonissos

Budget friendly holidays to Alonissos are steadily becoming more popular and the island can be reached from most regional airports in the UK. Alonissos can be a little complicated to get to; you can either fly into Athens or Skiathos and then get a boat across to the island. Make sure you check the Cheekytrip comparison site for great deals departing your local airport. Direct flights to Athens or Skiathos tend to be in the 3-and a half to 4-hour region.

Alonissos is at its most lively during the summer period that runs from spring until autumn but as already mentioned, never receives an overwhelming amount of tourism. Temperatures tend to reach the high 20s throughout these summer months. Prices are usually a little bit cheaper outside of these months from autumn to spring but as the prices begin to fall away, so do the temperatures. Outside of the busier summer season, there isn't a whole lot to do on this island.

The main tourist attraction on the island is the incredible and fascinating Alonissos Museum. This museum is the largest privately owned museum in the Greek islands and should be towards the top of your to-do list. When you aren't experiencing a bit of culture in the resort's centre, be sure to head down to the beach and go for a swim. The waters of the island are considered to be the cleanest in the Aegean and have also been declared a MarinePark and conservation area to protect the rare monk seals that live nearby.

Because of the island's relatively small size, there isn't much room for grand, luxurious hotels and so the vast majority of accommodation options are on the more humble end of the spectrum. Expect cosy, family-run B&Bs, smaller hotels and even campsites as the most common places to stay in this resort. Eating out in this resort is considered its own experience due to all of the wonderful places to wine and dine. Seafood dishes are always recommended by us as most places only serve the day's fresh catch. If you want the widest choice of menu, you should make your way to one of the island's many choices of tavernas.

If you are looking for a budget getaway to the island of Alonissos, we can certainly help. Cheekytrip is a price comparison site with holiday offers from over three dozen travel companies. Since they are all competing for your business, prices tend to be very competitive. To find the best deal, simply enter your dates, destination and point of departure into our search engine and within a matter of minutes, we'll find you the ideal Alonissos holiday. As offers and prices change daily, it's best not to delay so go ahead and book now!
---