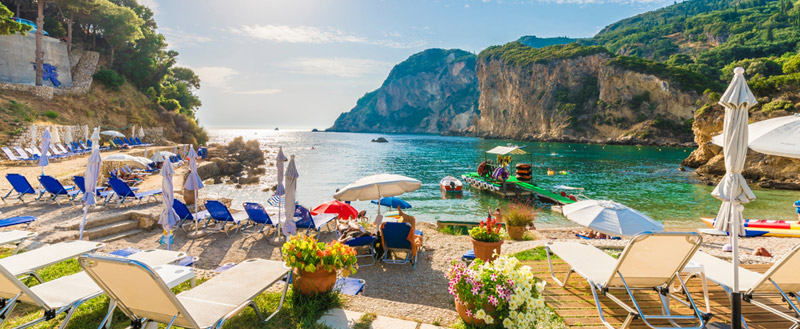 Argyrades is a small village resort to the south of Corfu. This destination acts as a fantastic hub for reaching many other notable areas of Corfu such as the neighbouring south beach of Agios Georgios, the beaches of Issos and Marathia as well as being just a short drive from Lefkimmi. This place isn't just a hub though, being a very picturesque and vibrant village in its own right.
Affordable Holidays to Argyrades

Affordable holidays to Argyrades are becoming increasingly popular and the region can be reached from most airports in the UK. The resort is situated in a very convenient place, being located just a 40-minute drive from Corfu Airport. Make sure you check the CheekyTrip comparison for more cost friendly holidays to this part of the world. Direct flights to Corfu tend to be around 3 hours long.

Argyrades is at its busiest during the summer period that runs from spring until autumn as tourists looking for a more reliable source of sunshine flock to the region. Temperatures tend to reach the low 30s throughout these summer months and temperatures remain mild until around October when they start to drop off to the mid- low-teens. There isn't much to do in Argyrades in the quiet off-season, so we definitely recommend a visit during the busier window.

One of the best things to do in this resort is to take a stroll around the town centre. Most of the areas here are pedestrianised and you will find a number of narrow alleyways and a selection of cafes and small restaurants to stop in and grab a few refreshments. Many of the buildings are a pretty pastel colour and are more than likely to end up on your Instagram page! As mentioned previously, for a bit of beach time, take a short trip to any one of the beautiful surrounding resorts.

The accommodation options in Argyrades are a very restricted to just a select few places. There are a couple of standard hotels as well as the odd apartment/B&B. If you can find a place to stay, you will have no issues. If you prefer a bit more choice, it is best to check out nearby resorts like Lefkimmi and Corfu Town. Restaurants and cafes are on the smaller side here too but after 7pm, the resort does come alive with locals rising from their siestas and enjoying themselves long into the evening.

If you are keen on a cheap holiday to Argyrades in Corfu, we can certainly help. Cheekytrip is a price comparison site with holiday offers from over three dozen travel companies. Since they are all competing for your business, prices tend to be very competitive. To find the best deal, simply enter your dates, destination and point of departure into our search engine and within a matter of minutes, we'll find you the ideal holiday in Argyrades. As offers and prices change daily, it's best not to delay so go ahead and book now!
---
Share this article
Advertisement