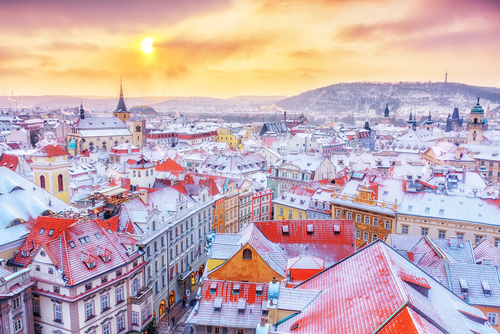 Writer and Prague native Franz Kafka once said of the city "Prague never lets you go... this dear little mother has sharp claws". It's true. The city makes an impact on anyone who visits, and winter is perhaps the most beautiful time of the year to see it.

Prague has everything. It has stunning architecture and an abundance of history. It's relatively cheap. It has great beer, hearty food, and grand Christmas markets. Here are a few of the best things to see and do in the city:

Soak in beer at the Original Beer Spa
Scoring a perfect TripAdvisor rating, the Original Beer Spa is a truly unique experience. When the cold takes its toll, there's no better way to recover than with a trip to a spa, especially a spa with beer! Relax in handmade oak tubs, filled with natural extracts of Czech Krušovice® beer. The hop oil contained in the beer is believed to open pores on the skin and contribute to an overall greater vitality! After you're done soaking in it, dry off on a bed of wheat straw by the fire, designed to promote the absorption of all the vitamins and extracts from the bath!
Get in the festive spirit at the Christmas markets
With more than its fair share of fantastic Christmas Markets, if you're a sucker for winter festivities, Prague is the place to be. Old Town Square hosts the largest of its kind in Europe, where classic wooden huts are stocked with local handicrafts, festive foods and beverages. Each year a nativity scene is held in the square too. Here, furry friends like sheep, llamas and donkeys can be patted - a great place to bring the kids. Other respected markets include the Havel's Market and St. George's Basilica near Prague Castle.

Visit the stunning Prague Castle with a tour
See the largest medieval castle in the world, Prague Castle, and learn all about its thousand-year-old past with an informative guided tour. The view from the castle grounds panoramically spans the entire city, providing perfect photo opportunities of the cities bridges across the Vltava river. Tickets cost 300 CZK (roughly £10) and can be purchased online or at the Discover Prague Tour Office just off the Old Town Square. The tours take place every day at 11:00, 14:00 and 17:00.
Try all the best festive local food
The Czech Republic provides some of the heartiest, winter-warming cuisine around. Taking influences from other post-soviet countries like Russia, Hungary and (East) Germany, delicious comfort-meals like Goulash and Schnitzel are ubiquitous across the city. You can also find Pražská šunka (Prague Ham), a legally protected slow roasted ham that can only be sold in the Czech capital, usually at stalls and markets. If you want to know and eat more of the cities food, book a tour with Eating Prague, a local guide who will tell stories of the cities communist past through the medium of food!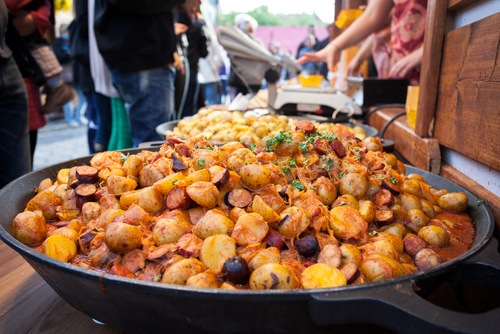 Go Ice skating at Ovocny Trh
Head to the Ovocný trh near Prague's Old Town for a spot of ice skating - the perfect winter pastime. Backdropped by breathtaking medieval buildings, ice skating here is as charming an activity as any - particularly for couples, who can glide across (and onto) the ice hand-in-hand! Access to the rink is free with your own skis, or you can rent a set for a modest 50 CZK.

With thousands of deals to Prague across our site, why not book a trip today? Just remember to wrap up warm! You can also head to our
Instagram

for more travel inspiration!
---