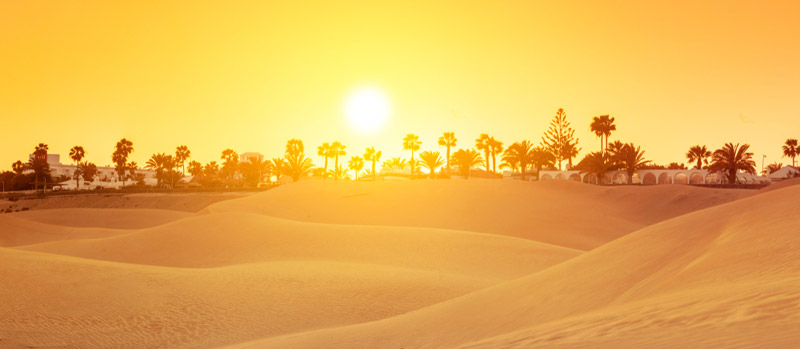 San Bartolome de Tirajana is a very pretty and fairly isolated town on the island of Gran Canaria. The resort provides spectacular views over the Tirajana Valley and is an excellent base for exploring the surrounding mountainous regions and taking part in many of the area's hiking trails. The striking 17th century church that sits at the centre of the town is also considered a must-visit in San Bartolome de Tirajana.
Deals to San Bartolome
Deals to San Bartolome de Tirajana are steadily becoming more popular and the region can be reached from most airports in the UK. There are many direct flights to the island's main airport with the resort being around a 40-minute transfer from there. Make sure you check the CheekyTrip comparison site to check deals to San Bartolome from your local airport. Direct flights to Gran Canaria tend to be around 4 hours.
San Bartolome de Tirajana is at its most lively during the summer period that runs from spring until autumn but it never receives exceedingly-high tourist numbers. Temperatures tend to reach the mid 20s very consistently throughout these summer months. Prices are usually a little bit cheaper outside of these months from autumn to spring even though temperatures during these months still often reach the high teens. This off-season might be the ideal time to visit if you want to do some hiking in more moderate temperatures!
Aside from many of the fantastic local hiking routes, there are plenty of other things to do in this charming little town. For example, the area is quite famous for its prominence of grape-growing and near the town's main hotel you can find the winery Bodega Las Tirajanas. They offer both casual tasting sessions if you are just passing by or you can book a full tour which also comes with cheese sampling! The town also offers a selection of private cruises including ones at sunset which provide a truly unforgettable experience.
Many of the accommodation options at the resort are in the apartment or villa style. This is ideal if you value your own space and don't mind doing a bit of cooking since the vast majority are self-catered. However, there are still a number of classic-style hotels including the 4-star Hotel Las Tirajanas which provides a variety of catering options and is situated in a wonderful location. In terms of dining, there are a number of restaurants dotted around the town which provide a mixture of local and international specialty dishes.
If you are keen on a low-cost holiday to San Bartolome de Tirajana in Gran Canaria, we can certainly help. Cheekytrip is a price comparison site with holiday offers from over three dozen travel companies. Since they are all competing for your business, prices tend to be very competitive. To find the best deal, simply enter your dates, destination and point of departure into our search engine and within a matter of minutes, we'll find you the ideal holiday to this resort. As offers and prices change daily, it's best not to delay so go ahead and book now!