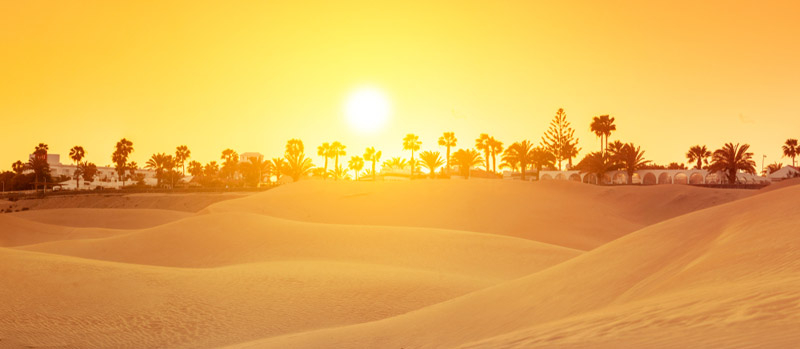 Cruz de Tejeda is one of the most picturesque and beautiful resorts in the whole of Gran Canaria. It is situated on one of the highest points of the island and its most attractive aspects centre around its various hiking routes. Visitors can expect fantastic views of the Roque Bentayga Nature Reserve as well as glimpses of the famous rock formation 'Roque Nublo' and the island's volcano Mount Teide.
Bargain Holidays to Cruz de Tejeda

Bargain holidays to Cruz de Tejeda are very popular and the island can be reached from most regional airports. The resort of Cruz de Tejeda is a bit more difficult to get to but can be reached from the island's main airport either via taxi, car hire or bus transfer. Make sure you check the CheekyTrip comparison site to compare bargain holidays to Cruz de Tejeda from your local airport. Direct flights to Gran Canaria tend to be around 4 hours long.

Contrary to most resorts in the Canary Islands, we would recommend a visit to Cruz de Tejeda during the spring rather than the summer, as this is when the flowering almond trees all around the city are in their full bloom and temperatures are more comfortable for walking. No matter what time of year you do decide to visit this place, be sure to bring a jacket for the evenings as it tends to get quite cool at the high altitudes! We would also recommend a midweek visit if possible as it can get crowded with locals on the weekends.

One of the best things to do in this region is to hike up to the iconic landmark of Roque Nublo. The journey can be made on foot from the town of Tejeda. Other notable hikes in and around Tejeda include the hamlet of La Culata where you will pass through many fields and a visit to the town of Cruz de Tejeda itself, where you can stop off in any one of the town's vibrant bars and restaurants.

The accommodation in Cruz de Tejeda is fairly limited simply due to the fact that it is situated in such an isolated location. Small apartments and villas are the main options and can help you cultivate your own slice of paradise up in the mountains. The resort has the largest selection of bars and restaurants in the area, with many Spanish classic on offer as well as some international cuisine too.

If you are seeking a low-cost holiday to Cruz de Tejeda in Gran Canaria, we can certainly help. Cheekytrip is a price comparison site with holiday offers from over three dozen travel companies. Since they are all competing for your custom, prices are very competitive. To find the best deal, simply enter your dates, destination and point of departure into our search engine and within a matter of minutes, we'll find you the Cruz de Tejeda holiday that provides the best value for money. As offers and prices change daily, it's best not to delay. Book now!