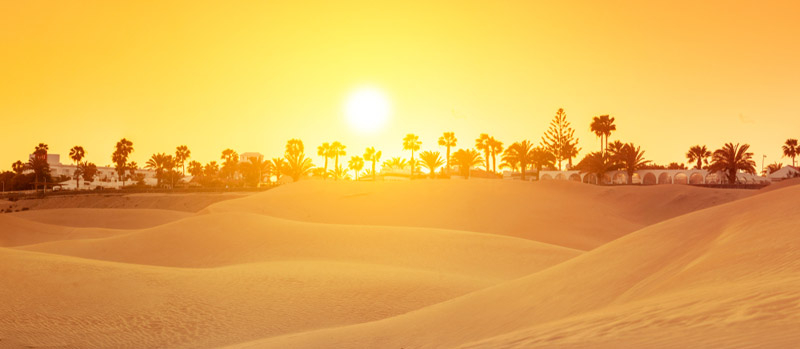 Salobre Golf Resort is located in the Gran Canarian countryside, around 4.5km from the popular resort of Masopalomas. It is recommended that you get car hire if you are travelling to this golf resort as access is very limited with the use of public transport. Salobre Golf has two courses, North and South, which total 36 holes for you to enjoy.
Holidays to Salobre Golf

Holidays to Salobre Golf are becoming increasingly popular and the region can be reached from most airports in the UK. There are many direct flights to the island's main airport with the resort being an easy car-ride from there. Make sure you check the Cheekytrip comparison site to compare holidays to Salobre Golf from your local airport. Direct flights to Gran Canaria tend to be around 4 hours.

Salobre Golf is probably at its busiest during the summer period but this resort attracts golfers all-year-round due to the island's wonderful climate. Temperatures tend to reach the mid-high 20s very consistently throughout these summer months and stay in the high teens for much of the rest of the year. It might be a smart idea to visit during the off-season if you want to escape the cold winters in the UK and play some golf with your friends instead!

Of course, the two spectacular golf courses are the main attractions to this resort, but there are many other features that are worth pointing out. There is a driving range to practice your swings or just have a bit of fun, a putting green, a golf academy and even a jacuzzi for ending the day on a very relaxing note.

There are 3 main accommodation choices if you want to stay at Salobre Golf. They include: Sheraton Salobre Golf Resort and Spa Hotel; Salobre Villas and Salobre Golf Bungalows. With these, you will find a range of facilities, amenities and prices to suit your own specific preferences and ensure that you have the best possible experience at this resort. In terms of dining, your best option is the golf course's main restaurant which has a number of international favourites to choose from as well as providing spectacular views over the golf course and El Roque Nublo mountain.

If you are keen on a holiday to Salobre Golf in Gran Canaria, we can certainly help. Cheekytrip is a price comparison site with holiday offers from over three dozen travel companies. Since they are all competing for your business, prices tend to be very competitive. To find the best deal, simply enter your dates, destination and point of departure into our search engine and within a matter of minutes, we'll find you the ideal Salobre Golf holiday. As offers and prices change daily, it's best not to delay so go ahead and book now!