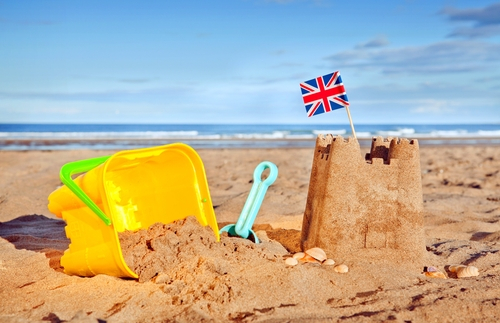 UK Seaside. Picture Credit: Shutterstock
Venturing into a list of the UK's seaside resorts you'd perhaps wish to sidestep, we explore what landed them on a less-than-enviable list, using insights from a Daily Star article and the associated recent poll they conducted. However, bear in mind that every traveller's experience is unique, and while some may have found these destinations lacking, others might uncover hidden gems within.
1.Skegness, Lincolnshire
Once radiant with its "Jolly Fisherman" poster from 1908 and a famed Butlin's holiday camp from 1936,
Skegness
, or "Skeggy," has weathered various storms - from the holiday package boom's fallout in the 70s and 80s to modern complaints of litter on its sandy beaches and a "cheap, nasty run-down feel" of the town. However, a few travellers defy the criticism, finding it "a proper English seaside."
2.Clacton-on-Sea, Essex
A close second to Skegness,
Clacton-on-Sea
has also found itself on the not-so-glorious list. Though this Essex resort boasts a pier and numerous opportunities for family fun, the area has been critiqued for its dated entertainment facilities and basic accommodations that seemingly lack the charm and upkeep tourists desire. However, much like Skegness, every visitor might find something uniquely enjoyable, such as the vintage amusement arcades or classic British seaside staples like fish and chips.
3.Burnham-on-Sea, Somerset
Burnham-on-Sea
might leave you pondering the juxtaposition of its vast sandy beaches with seemingly underwhelming tourist facilities. The critiques often hinge on limited entertainment options and a need for modernisation in areas to enhance the visitor experience. Yet, for some seeking a quieter beach retreat away from bustling tourist traps, Burnham-on-Sea could offer a peaceful alternative.
4.Bangor, County Down, NI
Despite its picturesque location in Northern Ireland,
Bangor
has faced criticism for a lack of significant investment and development in its tourist infrastructure. Some visitors feel that the seaside town has not fully exploited its potential as a thriving tourist destination, spotlighting a need for revitalisation in its leisure and hospitality sectors.
5.Mablethorpe, Lincolnshire
Mablethorpe
, despite having a beach that stretches invitingly along the Lincolnshire coast, has garnered a reputation that's slightly tarnished by critiques of lacking vibrancy and contemporary amenities. Some visitors deem it stuck in a bygone era, appealing for updated attractions and refreshed aesthetics to draw in and captivate a new generation of holidaymakers.
6.Bognor Regis, Sussex
Although blessed with sunshine - it's one of the sunniest places in the UK -
Bognor Regis
has faced a backlash for its mismatch between its natural beauty and the man-made surroundings. Criticisms often touch upon a need for more quality eateries, contemporary shops, and perhaps a gentle reimagining of its leisure offerings.
7.Great Yarmouth, Norfolk
Here, the stretch of sandy beaches might appeal, but
Great Yarmouth
finds itself hindered by an array of mediocre reviews that cite outdated amusements, lacklustre accommodations, and an overall air of faded glory as the culprits, urging potential visitors to proceed with managed expectations.
8.Colwyn Bay, Conwy, Wales
Colwyn Bay
, with its sweeping waterfront, could be a jewel of the Welsh coast but has unfortunately been tarnished by reports of neglect in areas that should shimmer with tourist allure. Visitors often note a necessity for enriched experiences and enhanced amenities to truly make the bay a crowning destination.
9.Southend-on-Sea, Essex
Southend-on-Sea
hosts the longest pleasure pier in the world but has, nonetheless, been critiqued for its patchy maintenance of public areas and attractions that seemingly have lost a bit of their sparkle amidst the vast, scenic estuary.
10.Morecambe, Lancashire
Last on the list,
Morecambe
, with its iconic art deco Midland Hotel and promenade, walks a tightrope between vintage charm and modern-day expectations. Visitors often desire a dash more excitement and rejuvenation to propel it into a favoured destination for eclectic tastes.
These towns each bear their own histories and peculiarities, which might just pique the interest of travellers looking beyond the polished and predictably pleasant. If you have an appetite for exploration and a curiosity for the uncrowded, perhaps a venture into the seemingly "worst" seaside resorts might just unearth unexpected joys. After all, one person's 'worst' could be another's hidden treasure.
---