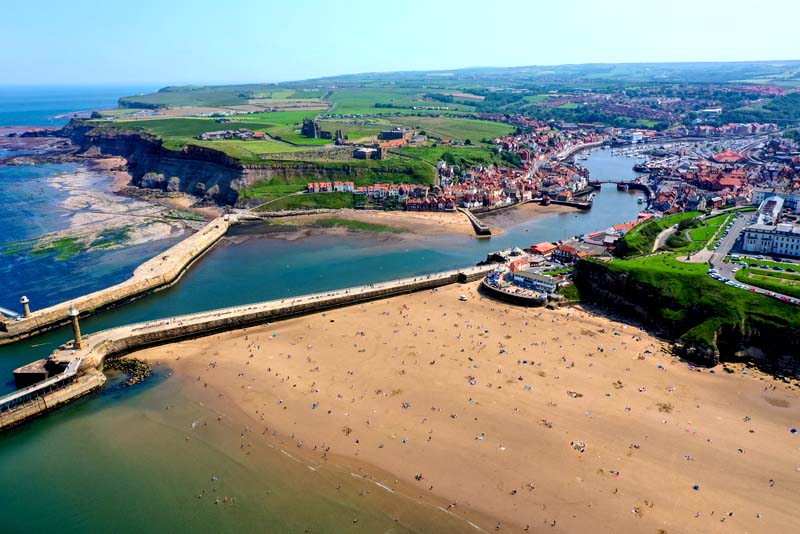 Even though it is sometimes overlooked because of the attraction of coastal breaks in foreign countries, the UK actually has one of the liveliest and most picturesque selection of coastal destinations anywhere in the world. Now it is not just the odd-few that prefer a coastal staycation to going abroad, many international visitors also flock to the British coastline to get a slice of its rich heritage, culture, history and sights. There are some fantastic coastal breaks up and down the UK, but here are our top 5...
Cornwall
Cornwall
is one of the most popular UK coastal destinations and attracts tourists not just from this country but from all over the world. This is no surprise given the vast amount of water sports to try, cliff walks to do, boat trips to enjoy and unique culture to embrace.
One of the main attractions to Cornwall is the stunning Tintagel Castle. It is one of English Heritage's biggest treasures and is a castle steeped in fascinating history and mystery. Here you will find tales of King Arthur, a fortress that has stood the test of time and even a new, iconic bridge that has become a picture-perfect spot in the area.
Cornwall is famous for its surrounding waters and often having the perfect weather for water sports. Surf Schools for beginners and experts are in abundance in this region and there is also the opportunity to go diving, windsurfing, and parasailing. On land, there are plenty of beautiful hiking and cycling routes to choose from.
Devon
If you enjoy activities that get your blood pumping and the adrenaline flowing whilst being in the great outdoors, then Devon is the perfect staycation destination for you. White-water rafting, paragliding and horse riding are just some of the exciting options on offer. However, if you are looking for a more relaxing getaway then Devon also has everything that you could want. Phenomenal walking and cycling routes are available and if you are fancying a bit of retail therapy, there is plenty of that too.
If you are visiting
Devon
, then a trip to the beach is an absolute must. If you are looking for some exciting water sports, then the beaches in North Devon are for you. Taking a relaxing boat trip is also highly recommended as you pass by the award-winning beaches in the Torbay and the spectacular cliffs of the Jurassic Coast.
Other notable attractions include The Paint Hub, a pottery cafe where you can design and take home your own piece of pottery. And Roadford Lake is well worth a visit for some relaxation and even a picnic if the weather is nice.
Whitby
Whitby
has long been a coastal tourist hotspot for generations. Although places like Whitby dropped off in popularity somewhat with the rise of package holidays, many people, young and old, are re-discovering the charm, wonder, and excitement of coastal destinations like Whitby.
There are a number of exciting activities to do in and around Whitby but one of the best things to do is to simply walk around. The harbour is always buzzing with activity, some of the world's best fish and chips can be found here, traditional sweet shops, ice cream shops and cosy pubs are on every other street. This place is always alive.
For specific attractions, be sure to check out the massive selection of Amusements which will keep the kids entertained for hours. There are traditional boat rides to enjoy including ones inspired by pirates and the world famous Captain Cook. Just a short journey away is Robin Hood's Bay: one of the most enchanting beaches and villages in the whole of the UK.
Blackpool
Blackpool has long had a reputation as a fun, family holiday destination and that is just as true as ever today. Like many other UK coastal hotspots, Blackpool saw a bit of a decline as holiday-goers opted to go abroad. Now though, it has been completely rejuvenated with its selection of beaches, theme parks, amusements, circus, dungeons and much more.
The Blackpool Tower is perhaps one of the most iconic images of Blackpool and it completely dominates the skyline here. For the best look of the seaside resort, head to the top of the tower which sits at 518ft tall where you can enjoy panoramic views. The Tower isn't just limited to its wonderful views though, with 4D Cinema experiences, dungeons, ballrooms and even a circus all to be enjoyed in this area.
Pleasure Beach is another standout attraction in Blackpool that is sure to provide plenty of excitement for both young and old kids! Sandcastle Waterpark is a fantastic option for more thrills and spills in the water and for something a little more laid back, we recommend a visit to Stanley Park and its glorious Italian-style gardens.
Bamburgh
What Bamburgh lacks in size compared to the other resorts it more than makes up for in charm, beauty and history. It also has one of the largest castles in the UK which is the centrepiece of this quaint village-town. Expect long beach walks, cosy pubs, delicious ice cream, castle tours and even the odd celebrity walking about (Harrison Ford was spotted filming here as recently as June 2021).
The standout attraction of Bamburgh is without a doubt its towering castle. The grounds and front of the castle are open to the public but to get a deeper look into the state rooms, museums and dungeon, you will need to pay a small admission fee. The castle has changed hands many times and has played key roles in the Nordic conquests of England and the War of the Roses to name a few. You will get spectacular views of the castle from both the town and its beach.
Beach walks are also a must when visiting Bamburgh. The beach has towering dunes, soft sands and is 2.5km long. It is highly recommended to go down there at either sunrise or sunset as the castle is lit up beautifully and you will likely take one of your best ever photos! Ice cream from The Pantry is highly recommended and for a bit more history, be sure to visit St. Aidan's Church.