Balearic hotspot
Ibiza
can be a pricey holiday, so we've decided to have a look at how you can have a great time in the white isle without breaking the bank.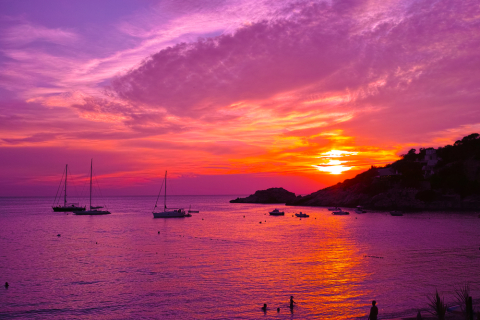 Visit in the shoulder months/travel in a group of four


The shoulder season months of June and September are great times to visit the white isle. Hotels can cost up to three times less than the peak months of July and August, but the parties are still going strong and the sun is still shining bright.
A group of four is the ideal size when visiting Ibiza - it's the perfect size when it comes to splitting hotel rooms, booking taxis or sharing a bottle (or two) of wine.
Find the most practical location to stay

Let's face it, if you're in Ibiza you won't be spending much time in your hotel. A bed and shower are essential, but anything more than that is just an added extra. If it's basic but effective accommodation you're after, the San Antonio area is home to some of the cheapest accommodation on the island. A lot of the accommodation in the area has recently been refurbished, and San Antonio is a great location for bars and nightclubs. That will be crucial when it comes to saving money on taxi fares.
How to get around the island
When you arrive at the airport, the bus is a much cheaper alternative to a taxi. The number 10 bus can take you to Ibiza Town centre, and the L9 can take you to San Antonio. If you want total freedom to explore the island, hiring a car (in advance of arriving) is a great way to see the beautiful island. Car-hire is hugely popular in Ibiza, resulting in competitive prices year-long; if you're sharing the costs with friends it can be well worth the money. Once you're settled in your accommodation and ready to hit the clubs, the famous 'disco bus' connects all the large clubs and costs between €3 and €4. It picks you up from the main bus station in San Antonio or outside McDonalds near Pasha in Ibiza Town. You can bring your drinks along as long as it's in a plastic cup too!

Don't be suckered into the tourist traps
Famous beachfront establishments like Cafe Del Mar and Mambo may have the famous brand, and the views on offer may have instagramability, but that doesn't necessarily equate to value for money. There are cheaper ways to watch the sunset, including a good old fashioned bring-your-own-drink to the beach - the view from the nearby rocks is exactly the same and you'll save nearly €100!

Make sure to grab some cheap meals
When on holiday, it's hard to resist the temptation of eating out, but if you're on a budget it can be a challenge. This is why the Spanish cultural phenomenon of 'menu-del-dia', a set-price, three-course meal served at lunchtime from Monday to Friday in restaurants across the island, is a lifesaver. The menu-del-dia offers holidaymakers a chance to eat a generously portioned and quality meal without having to splash the cash - see this guide for some of the best places to find a good meal on the island.
Utilize the supermarket and make sure to pre-drink
One of the number one problems many will cite when it comes to Ibiza is the price of alcohol in bars and clubs, which is why your local supermarket will be a big help to your budget. Alcohol in the shops will be astronomically cheaper than the bars, and the same principle can be applied to food - if your

accommodation is home to kitchen facilities

you could save a fortune by cooking your own dinner

instead of eating out every night, leaving you with more money to splash on other activities.
Book club tickets in advance
It's hard to find any free night club events in Ibiza anymore, but there are still ways to have a great time without overspending. Cafe Mumbo and Ibiza Rocks Bar offer free pre-party events before you head to the nightclub, but you should make it your priority prior to arriving on the island to seek out events you would like to go to. By booking tickets beforehand, you can save up to €15 per ticket when you book online and it will guarantee your entry so you don't need to worry about the event selling out.
---