Majorca has long been, and most likely will remain, a hugely popular destination for Brits.
It is little wonder why with the fantastic weather, clear blue waters and the spectacular scenic landscape of the Spanish Balearic Islands. Here at CheekyTrip we have extensive information about a whopping 24 resorts on the island. This blog post however, will point you towards our favourite five…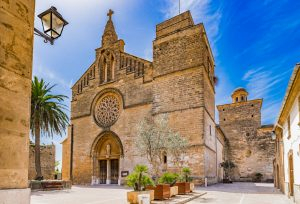 Alcudia
Alcudia is one of the most popular resorts in the whole of Majorca. It offers a huge range of activities both day and night, luscious sandy beaches and even some fascinating historical sights to explore such as an old Roman amphitheatre. Make sure you check out the Hidropark, a huge waterpark complex with fast-paced slides and more chilled attractions for the younger ones. Alcudia is also a massive water-sport hub with professional level scuba spots or if you are more of a casual, good old banana boating!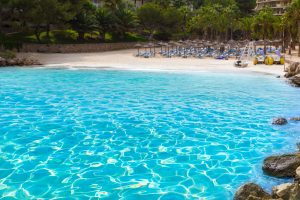 Cala Vinas
A slightly more peaceful and relaxing resort on the island is that of Cala Vinas. It is just a stone-throw away from the famous party location of Magaluf. For those looking for a break in between partying, as well as being far enough away to be a great destination for families. The breathtaking sunsets and hot weather go without saying as some of the attractions of Cala Vinas. The crazy golf Fantasia is a must-do and is sure to bring about plenty of laughs and friendly competition between friends or family! Food is also a great reason to visit Cala Vinas, as it specialises in some unique fish dishes amongst other diverse cuisines!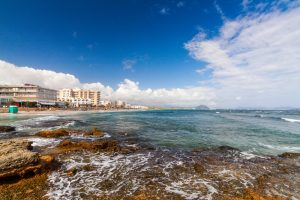 PLAYA DE MURO
Playa de Muro is an extremely pleasant location for not just the sun-worshippers amongst us but also the explorers and those looking to dive into new cultures. First off, this resort is renowned for its popularity with golfers and the fact that they have three sublime courses to choose from. Walkers and cyclists also flock to Playa de Muro to experience the scenic routes through the mountainous regions. After an exhausting but fulfilling day out and about, be sure to try some authentic tapas to complete the perfect trip!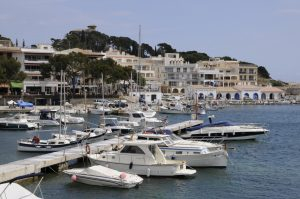 Cala Ratjada
Cala Ratjada is slightly different to any that we have seen so far. Due it being a quaint, seaside resort with a spectacular marina and a buzzing harbour. This is the perfect place for those who enjoy sitting back, relaxing and enjoying cafe lattes in picturesque places as the world passes them by. Similar to Playa de Muro, this beautiful location offers the chance to hike through wooded hill areas as well as stress-free strolls along the promenades.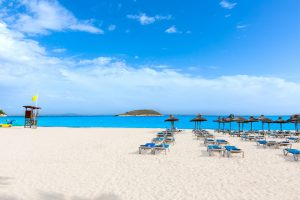 PALMA NOVA
Palma Nova is definitely a destination for those with a bit more of a party spirit. Always buzzing with activity no matter the time of day. Just past a rocky headland to the south lies Magaluf; party central in Majorca. If you don't fancy heading all of the way there though, the promenade of Palma Nova is also filled with bars and shops so you need not go anywhere else. Not much of a drinker? Fear not! There are still huge selection of things to do including go-karting, crazy golfing, swimming and much, much more!
Have you been to any of these fantastic resorts? Which one is your favourite? Let us know below or via our Facebook and Twitter pages
---