Morocco is a plethora of rich history, culture and natural beauty. Located in North Africa but only 9 miles away from the Spanish border, as a result of the countries Islamic beginnings dating back to the 7th century. Along with the influence of its French and Spanish colonial rulings, Morocco is bustling with a diverse cultural identity unique to its geographical location.
Marrakech
Marrakech plays a prominent role when it comes to tourism in Morocco. With a population of over 900,000, although it is not the biggest city in the country, it is certainly one of the most vibrant places to visit. It offers an abundance of stunning architecture, art galleries, bars, restaurants and markets. For fans of beautiful buildings and grounds, head to the Bahia Palace. A 19th century palace that was built with the intention of being the finest of its kind (Bahia meaning brilliance), and it doesn't disappoint. With its visually stunning mosaic floors, stain glass windows and intricately designed motif ceilings, this palace truly lives up to its name.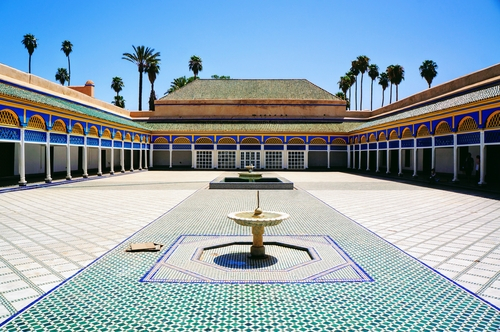 The Jemaa el-Fnaa square, found in the medina quarter of the city is home to a large range of stalls, with vendors selling everything from fresh herbs and spices, to authentic Moroccan clothing. The place is full of life, both in spirit and literally. You may see animals such as monkeys and snake charmers, hear live Andalusian music and street performers, and smell and taste the local street food, some of which is essential for food lovers out there. It all concocts to create an unforgettably bustling atmosphere, and a wild sensory overloading experience.
Along with Marrakech, Agadir is another area of Morocco that has become a hit amongst tourists. A coastal city on the southern Atlantic coast, Agadir was completely rebuilt in 1960, after an earthquake destroyed much of the cities foundations. However, this led to the rebuilding and rise of high-end hotels, bars and restaurants serving up renowned Moroccan dishes which make great use of the fresh sea food caught on the cities important fishing boats.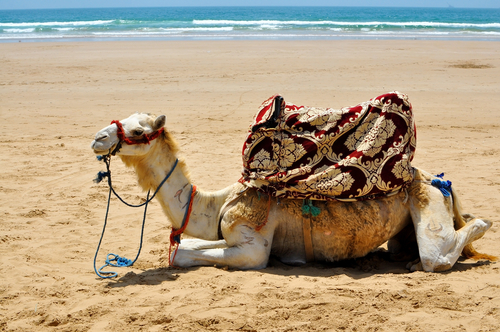 The beach, is inevitably the main attraction in Agadir. It is a popular winter destination for Europeans due to its high temperatures throughout and importantly towards the end of year, where you can even take Camel rides! For a historical excavation, head to the Kasbah, one of the few historic attractions still standing. These giant former walls of the town dating back to the 16th century are located on a hill and overlook the city, and this is where some of the most beautiful views of Agadir will be found.
We are just scratching the service of what this great country has to offer, as cities such as Fez, Casablanca, Rabat and Tangier all have their own unique characteristics that are more than worth visiting. Be sure to check out this blog for future guides, where we will point you in the direction of other Moroccan treasures!
---