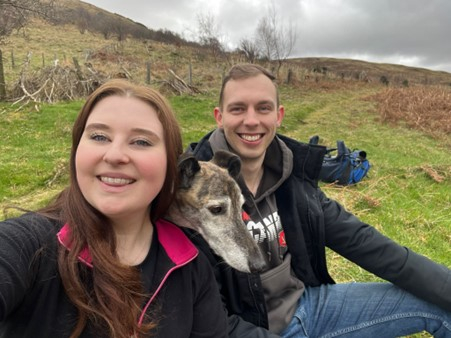 Picture Credit: Daniel Riley
Back in February, myself, my partner and our 11-year old dog Trooper went to the
Lake District
for a long weekend. It's been a while since we had a proper break, and the thought of exploring new places and enjoying some downtime with them both couldn't come quick enough.
After packing our bags, we set off from our home in
Newcastle
, heading towards the stunning scenery of the Lake District. It only took a couple of hours and we stopped at a service station on the way to stretch our legs. We set off again and before we knew it, we were in Bowness-on-Windermere, where we stayed at a cosy hotel/pub called Churchills.
The location was perfect. We could see Lake Windermere from our window and were only a stone's throw away from all the local amenities including plenty of bars, restaurants, shops and pubs. The staff were super friendly and made us feel right at home.
The next morning, we decided to explore the lake. We booked a boat trip on Lake Windermere, and it was an experience like no other. Trooper, who had never been on a boat before, was a little hesitant at first but soon settled in and enjoyed the ride as much as we did. The views were breathtaking, and we could see all the little towns and villages dotted along the shore.
The next day, we had a whole route planned out to explore the Langdales. The scenery here was spectacular, and we were lucky enough to have perfect weather for our walk. We followed the trail along the stream, up hills, past waterfalls and enjoyed the breathtaking scenery all along the way.
One of the highlights of our trip was visiting Cathedral Quarry. It was like nothing we'd ever seen before. The quarry was accessed through a relatively narrow cave that went on in darkness for one hundred metres or so. When we reached the end of the tunnel, we were greeted by a vast, cathedral-like cavern with towering pillars and arches, and it's an incredibly popular spot for climbers and hikers.
On the way back to the car, the sun started to set behind the hills and we were treated to a display of rich purples and fiery oranges in the sky. It was truly a spectacle I will never forget. Before we reached the car, we stopped off at a cosy pub. The pub was warm and inviting with a roaring fire and friendly locals - it was busier than we expected for a Sunday evening. We ordered some food and a pint of beer each and chatted with the locals about our day. It was the perfect way to finish the weekend.
It provided some much-needed downtime, fresh air and plenty of reconnecting with nature. It is always so much more special when you share these experiences with loved ones too. Sometimes we forget just how many amazing holiday spots there are right on our doorstep. We have already started planning our next trip which will be a
cottage break
!
---