Any city break to Paris should definitely include sampling some delicious cuisine and seeing as many of the historic landmarks as possible. There is so much to see and do that packing everything into 3 days isn't easy, but here is a guide to some of the things that you won't want to miss!
Eiffel Tower
It comes as no surprise that the number one sight in Paris is the Eiffel Tower. World famous for its unique appearance and ingenious architecture, people come from around the world to see the incredible view from the top of the tower, which offers without a doubt the best view of the city. Choose to take the lift, which normally involves queuing, or climb the stairs which are well worth the effort!
Arc de Triomphe
Another incredibly famous monument, the Arc de Triomphe honours those who died in the French revolutionary and Napoleonic wars. If you're willing to climb the stairs, there's a great view of the surrounding area.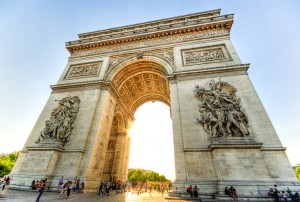 Notre Dame
Notre Dame is one of the largest and most recognisable Churches in the world, boasting impressive French Gothic Architecture. It is believed to have taken over 300 years to build, and the outcome is a stunning Cathedral, as well as a must-visit the landmark. The Cathedral stands on the banks of the Seine and is surrounded by delightful cafes and creperies. A perfect place to sit, relax and watch the world go by.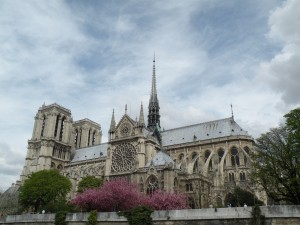 Louvre
A must see for art lovers, The Louvre is the largest museum in Europe and home to some of the most beautiful and famous artworks in the world such as the Mona Lisa and the Venus de Milo. Pre-book tickets or arrive early, as this is an extremely popular attraction. Complete your visit with a wander through the fountains and avenues of the ancient Tuileries Garden, and mingle with Parisians enjoying the tranquillity and beauty of this unique public space.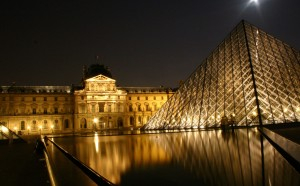 Champs Elysees
A stroll down the Champs Elysees can sometimes feel like more of a sightseeing experience than a shopping expedition. Here is where you will find all of the top designer stores, with high-end price tags to match. Louis Vitton, Gucci, Cartier, are all here, and for most tourists, a peek in the windows is enough. For a more affordable and enjoyable shopping experience head for the Latin quarter on the Left Bank of the Seine. Here you will find the real Bohemian Paris, home to artists and students, you can spend hours wandering through its narrow streets, browsing its tiny shops and market stalls, or simply relaxing with a glass of wine in one its many bistros and cafes.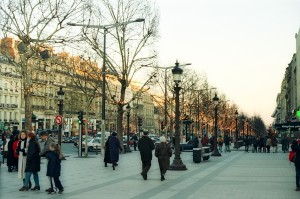 Whats your favourite Landmark in Paris? Let us know on Facebook or Twitter
photos by:
hjjanisch
,
Pedro Cambra
,
Denis McLaughlin
,
EuroVizion
---