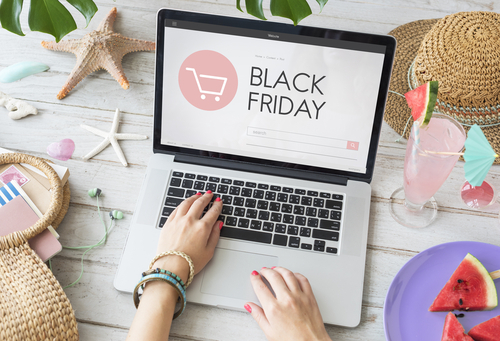 Traditionally the day after Thanksgiving in the United States, Black Friday signals the beginning of the Christmas shopping season. Whether you love it or loathe it, these days it's hard to ignore - if there's something you're especially looking to buy, it's an undeniably great way to bag a bargain.
Huge discounts can be found all over the web across all industries, but none more so than travel. If it's a holiday you're after, you're in luck. There are some great value holiday deals to be found with Cheekytrip this coming Friday, believe us.
Here are some tips so you can find the best holiday offers with us on Friday:
Bookmark our site now
Black Friday will fall on the 23rd of November, but special deals will begin to emerge on the Cheekytrip website a few days prior, leaving those in the know (you reading this right now) with early access to the best offers. We have a top selection of holiday destinations across our site, including beach destinations like the Canaries and Greece, city breaks across Europe, and spots further afield too. Head to our special Black Friday holiday deals page now for all the best early offers.
Do your research early
If you know when you want to go on holiday, make sure you have a destination in mind for that time of year. Last minute winter sun holidays are extremely popular, so you'll need to act fast if you want a bargain to somewhere hot! If you plan on escaping next summer, keep your eyes peeled for our 2019 discounts too. See more posts from our blog for further travel inspiration, so you can make a perfect choice!
Sign up to our Newsletter
Our Newsletter keeps our subscribers up to date with the best holiday deals available on a regular basis. This week's edition will have an especially attractive selection of offers on display. Sign up to our newsletter today, so you can stay updated on what's on offer this Friday!
Keep an eye on our Facebook page
Our very active Facebook page regularly updates our fans with all our best holiday deals. Be sure to keep a particularly close eye out on the page this week, leading up to Friday the 23rd, and of course, on the day itself!
Don't worry - Cyber Monday is around the corner!
If you do miss out on a Black Friday deal that caught your eye, fear not. There are still plenty of reasons to be cheerful, and one of them is Cyber Monday! Make sure you pay close attention to our site on and around Monday 26th November - Cheekytrip will offer you another opportunity to grab a bargain that is perfect for you. You may see very similar discounts to the deals found on Black Friday!
---