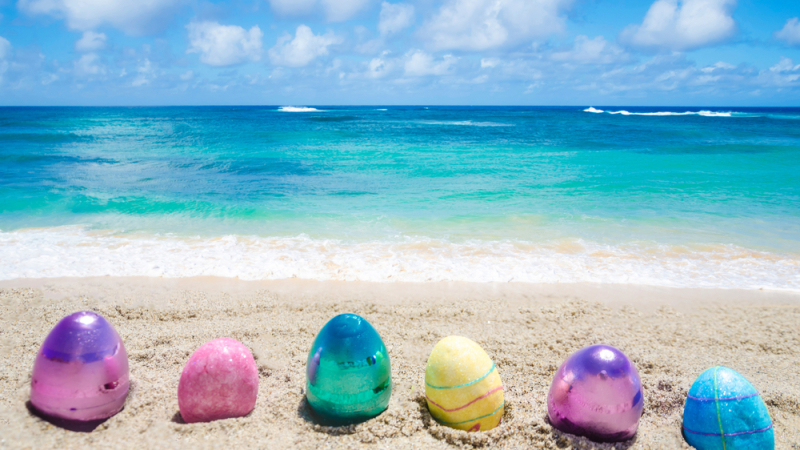 With Easter right around the corner and the lighter nights finally here to stay, there is no better time than now to begin planning your next, spontaneous getaway in the UK. We are lucky enough to live on an island where there is so much to do and see, plenty of places and spaces to relax as well as a wide range of cities, cultures, people, foods and much more to sample.
Today we are going to spark your imagination and get you ready to open that diary planner. The UK Easter Break is here and we have some amazing travel inspiration for you - let's get straight into it!
Book a Seaside Holiday with the Kids
A seaside holiday is always a great way to entertain the kids, get out into the fresh air and with a little bit of luck, enjoy some nice weather. The UK is not short of incredible beach and seaside resorts that serve as excellent staycation destinations, even when the weather isn't too dependable. Whether it is an amazing visit to Bamburgh Castle in the
north east
, a surfing holiday in the southwest or a traditional seaside holiday full of fun in somewhere like Blackpool, this Easter is a great opportunity to get out to the coast.
Book a Caravan Holiday For a Long Weekend Away
Whether you are going with a loved one or taking the kids away for a long weekend, there is nothing quite like a
caravan holiday
. Peace and quiet, long walks, fun outdoor activities and cosy evenings are on the menu here as well as memories that can last a lifetime. Some of the best caravan breaks can be found in the
Lake District
where you can combine your walks with exciting lake-side activities and leisure centres. There are plenty of incredible options up and down the UK.
Book a Cosy Cottage for a Peaceful Retreat
This Easter is the perfect opportunity to finally book that peaceful retreat into nature that you have been promising yourself for so long. The cosy cottage business is booming at the moment with an abundance of quiet stays in the middle of nature that often feature their own hot tub.
Cottage breaks
are also the ideal way to set up base for some long, leisurely walks followed by a cosy evening in front of the log fire when you get home.
Book a City Break and Discover Somewhere New
A city break is one of the most exciting ways to spend some of your precious time off over Easter. No matter where you are situated in the UK, most of the major cities are relatively straightforward to get to and are sure to provide a weekend (or more) of fun.
Newcastle
,
Manchester
,
Leeds
and
London
are some of our favourites but be sure to have a look at the likes of
Bristol
,
Nottingham
and
Liverpool
too.
Book a Day Out at a Theme Park
A day out at a
theme park
rounds off our list of Easter break ideas and it finishes it off with a bang. Theme parks offer something for everyone and provide amazing days out with family, friends or a partner. No matter your taste for thrills and spills, you can be sure that you will find just what you need and leave the park with a big smile on your face. There are fantastic theme parks dotted all over the country, with Alton Towers, Thorpe Park and Flamingo Land being our picks of the bunch!
---