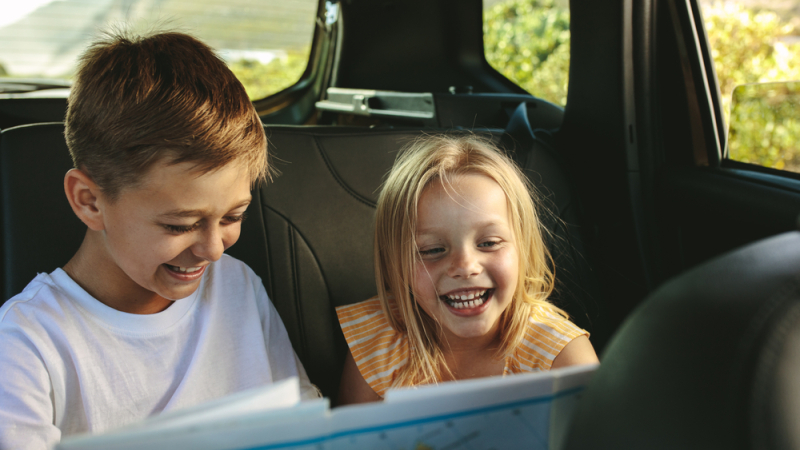 Picture Credit: Shutterstock
Kids and road trips are two things that sometimes mix like oil and water - not at all. However, kids often do love the destination of the road trip, just rarely the journey itself, especially if it is longer than a few hours.
If you are looking for ways to keep the little ones entertained then you have come to the right place. Here are 10 ways to keep your children busy on a road trip.
Turn Your Backseat Into a Cinema
Most cars don't have built-in screens in the back of them but it can be really easy to make the backseat a cinema area. There are cheap, foldable stands where an iPad or tablet can sit and they can watch their favourite movies that way. Or they can just hold the tablet if that is something you trust them with!
Road Trip Bingo
Road Trip Bingo should be considered an absolute lifesaver for longer journeys and can be a great way to pass some time. Who will be the first to spot a police car? How many pink cars will we spot along this road? As long as your creativity has no limits, the bingo won't either.
Plan Your Stops
Perhaps the most important aspect of keeping your children relaxed on a long road trip is to plan your stops in advance. It might be tempting to keep driving so you get there quicker but that will likely backfire with tired and agitated children on arrival. Kids (and adults) love breaks. It allows everyone to stretch their legs, get some fresh air and refuel.
Keep Their Favourite Toys Handy
Hopefully this is already on your list but in case you need reminding, their favourite toys should be handy at all times. When all else fails, a snuggle into their favourite teddy bear or easy access to their favourite Lego set can make all the difference.
A Game of "I Spy" Anyone?
Some of the classic car games have stood the test of time for good reason. Although they can be arduous if you play them for too long, they still make for very good time-fillers.
Educational Games
Educational games are also a great way to not only keep the kids entertained but also to keep their brains working, growing and developing. Child-friendly puzzle books are a fantastic option.
Download Their Favourite Apps
Although you don't want your kids to be spending their entire journeys in front of a screen, there is no harm in downloading some of their favourite apps for them to use or play on at your discretion. Maybe they love Fruit Ninja or Angry Birds? A few interactive games can go a long way in making the journey more enjoyable for everyone.
Pack Their Favourite Treats!
Having their favourite treats on-hand works well for two reasons. The first is that they can pair well with some of the other items on this list. For example, if they manage to do well in Road Trip Bingo they can be rewarded. The second is that the treats can always be a last resort pacifier if things aren't going too well!
Plan Your Route Well
You don't want to be getting lost at the best of times but with young children, the stress of being lost can be ten times worse. Try to stick to straightforward routes where there is less chance of becoming lost and delaying the journey indefinitely.
Set Expectations
Setting expectations for your children regarding the trip is one of the best ways to keep them relaxed. Kids don't usually deal with uncertainty too well, so let them know when you plan on stopping, when they can expect to see any famous sights on the way and other things where they can create a solid timeline in their head.
---