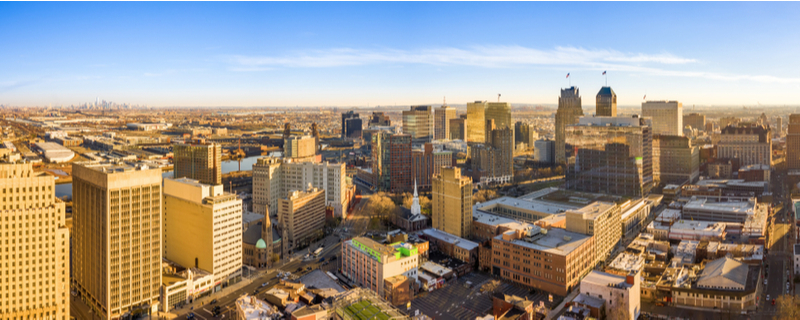 Newark is New Jersey's largest city and remains to this day as one of America's major shipping, rail and air hubs. It is an incredible city itself, but is often overlooked as the neighbouring New York City tends to take all of the limelight. Because of this though, days in both New Jersey and New York are easily done due to the strong, interlinked nature of the two areas.
Newark City Breaks

Low-cost holidays to Newark are becoming increasingly popular as the city undergoes a mini renaissance and the region can be reached from a select number of airports in the UK. Flying into Newark International Airport is the best way to access it with the city itself right on the doorstep. Make sure you check the CheekyTrip comparison for more cost-friendly holidays to this part of the world. Direct flights to Newark tend to be around 8 hours long.

The best time to visit Newark is often considered to be during the season of spring and into early summer. This is when there is a tangible buzz about the place with the weather being pleasant and tourists flocking to the city. However, this also tends to result in higher prices for visiting at this time of year. If you are looking to save some money and want to avoid the major influx of tourism, autumn is probably your best option for visiting.

Newark is a centre of festivals all-year-round and no matter what time of year you visit, you are bound to coincide with something exciting. The spring time includes a Cherry Blossom Festival with the city's 4300 cherry blossom trees. Summer sees the Lincoln Park Music Festival and autumn includes things like Brazilian Festival and Halsey Festival. One of the best places to visit in Newark no matter the time of year is Branch Brook Park. The park covers around 360 acres of meadowland and is also home to the aforementioned 4300 cherry blossom trees. It is wonderful for a scenic morning or evening stroll no matter the weather! Of course, day-trips to New York City are also popular when staying in Newark.

The majority of accommodation options in Newark are either budget or mid-range, with most of the expensive hotels being reserved for nearby New York City. There are also a number of good-quality hotels in and around the airport itself if you don't want to travel too far after landing! In terms of dining out, Newark features cuisine from all over the world and eating here is an experience in itself. One of our favourite places to visit is Ferry Street in the Ironbound. This 'restaurant row' is known for its Portugese, Brazilian and Latino food.

If you are keen on a budget-friendly holiday to Newark in New Jersey, we can certainly help. Cheekytrip is a price comparison site with holiday offers from over three dozen travel companies. Since they are all competing for your business, prices tend to be very competitive. To find the best deal, simply enter your dates, destination and point of departure into our search engine and within a matter of minutes, we'll find you the ideal holiday in Newark. As offers and prices change daily, it's best not to delay so go ahead and book now!
---
Related Pages
Share this article
Advertisement