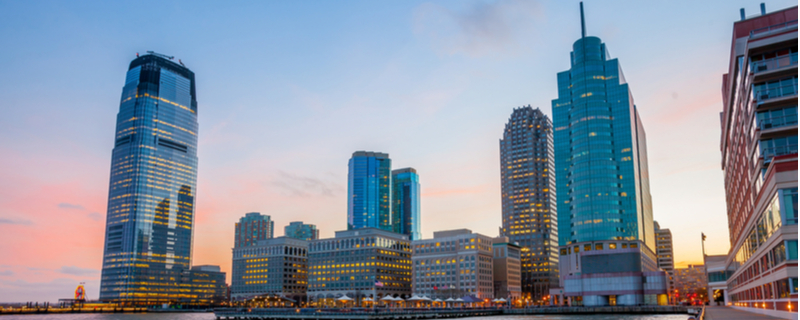 Jersey City is New Jersey's second largest city and has no shortage of amazing things to see and do. As well as its own attractions, Jersey City serves as a popular, cheaper base for exploring New York City which is just a stone-throw away. Like most major cities in this part of the world, Jersey City is split into districts, each with their own unique charm, history and activities.
Jersey City Breaks

Low-cost holidays to Jersey City are very readily available and the region can be reached from most regional airports. Jersey City is located just a 10-minute drive away from Newark International Airport. Make sure you check the CheekyTrip comparison site for more fantastic deals to the American East Coast. Direct flights to New Jersey are around 8 hours long.

Jersey City is at its busiest and best from spring until autumn. This is the peak of warm weather activities, the city buzzing with tourists but not becoming overcrowded and when the climate is at its most steady. It is always worth considering this part of the world in the winter for a good chance of New York-style snow but for most, summertime will be your best option.

The city is full of incredible things to do and one of those is to take a picturesque walk along the Hudson waterfront. On a clear day, you can see everything from the Verrazano Narrows Bridge all the way to Midtown Manhattan. This waterfront is one of the most popular locations to photograph the island of Manhattan. Another great thing to do in Jersey City is to catch a ferry to the Statue of Liberty or Ellis Island. Both of these places are big tourist spots and for very good reason. If you get a chance, Jersey City also offers the opportunity to visit the biggest planetarium in the Western Hemisphere in the Liberty Science Center.

Because this part of New Jersey is visited by so many New York City tourists looking for a budget stay, the area is filled with affordable but excellent quality accommodation choices. Motels and cheap hotels are the primary stays in the region but don't be fooled by the prices, as the accommodations along the waterfront are the safest and best-value in the region. Jersey City has a wide variety of restaurants and dining options to choose from. Anything from swanky restaurants with Manhattan views to family-run Indian, Cuban and Mexican venues are available plus much, much more.

If you are seeking a cheap holiday to Jersey City in New Jersey, we can certainly help you out. Cheekytrip is a price comparison site with holiday offers from over three dozen travel companies. Since they are all competing for your custom, prices are very competitive. To find the best deal, simply enter your dates, destination and point of departure into our search engine and within a matter of minutes, we'll find you the Jersey City holiday that provides the best value for money. As offers and prices change daily, it's best not to delay. Book now!
---
Related Pages
Share this article
Advertisement