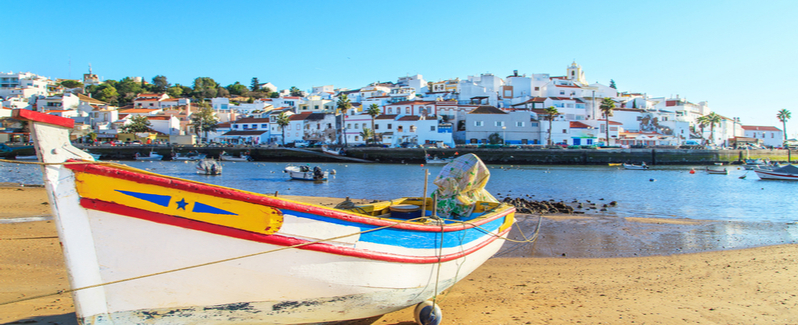 Silves is the ancient capital of the Algarve and has a very rich history to explore. It was a major defensive stronghold with boats sailing along the Arade River and crossing into North Africa. Despite its bustling history, Silves is now a laid-back and peaceful resort that is perfect for unwinding in its beautiful climate. We recommend Silves to travellers of all ages and backgrounds.
Low Cost Holidays to Silves

Low-cost holidays to Silves are very much in-demand and the region can be reached from most regional airports in the UK. Silves is conveniently situated at around a 40-minute drive away from Faro airport. Make sure you check the CheekyTrip comparison site for budget holiday deals to gorgeous Algarve destinations like this one. Direct flights to Faro tend to be around 3 hours long so a morning flight will set you up very nicely for the rest of the day.

The best time to visit this resort is definitely the summer period as there isn't as much to do when the temperatures start to cool down in the winter months. Temperatures tend to reach the high 20s and even into the low 30s throughout the summer months whilst the period between autumn to spring drops to the low teens. Although the town is much quieter during the cooler months, this could be ideal if you are only travelling to see the historic landmarks of this place.

There are a number of great things to do in Silves and quite a lot of them involve diving deep into the region's fascinating history. Simply wandering around the town you will find everything from its grand red-brick castle, its poignant Gothic cathedral and its fortified town walls. Away from the landmarks, Silves provides a very laid-back atmosphere with its cobbled streets and open-air cafes, all of which make it a true joy to be a part of.

Because the resort leans quite heavily on its traditions, you won't find any super-modern, 5-star hotels here. However, what you will find are some splendid and very affordable accommodation options including guest houses and holiday homes in the surrounding countryside. The same is true for the dining scene in Silves, with many family-run establishments serving up traditional and delicious Portugese dishes.

If you are looking for an affordable holiday to Silves in the Algarve, we can certainly help. Cheekytrip is a price comparison site with holiday offers from over three dozen travel companies. Since they are all competing for your business, prices tend to be very competitive. To find the best deal, simply enter your dates, destination and point of departure into our search engine and within a matter of minutes, we'll find you the ideal Silves holiday. As offers and prices change daily, it's best not to delay so go ahead and book now!
---
Related Pages
Share this article
Advertisement