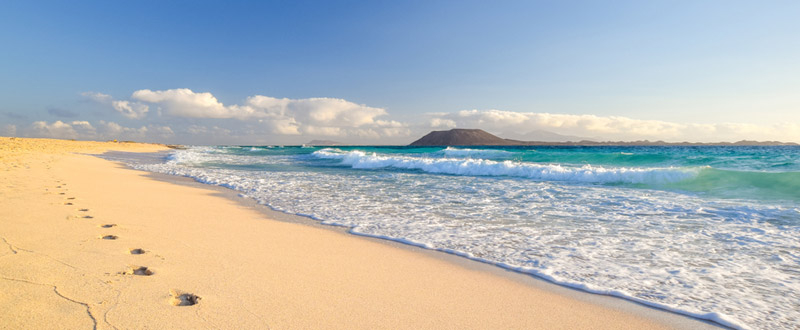 The impressive 1.5km-long sandy beach of Playa del Cable is situated right next to the popular port town of Marbella in Lanzarote. It is a large, spacious beach with plenty of room for sunbathing, fun activities and cooling off in the calm waters. The beach is predominantly inhabited by Spanish locals who enjoy their siestas meaning the beach tends to empty and then fill up again between the hours of 12-4.
Holidays to Playa del Cable

Holidays to Playa del Cable are still very popular and the island can be reached from most regional airports in the UK. Playa del Cable is located just 4-minutes from the island's airport meaning you should have no issues finding it. Make sure you check the Cheekytrip comparison site to compare holidays to Playa del Cable from your local airport. Direct flights to Lanzarote tend to be just under 4 hours.

Playa del Cable is at its most lively and exciting during the summer period that runs from Spring until Autumn. Temperatures can reach the high 20s throughout these summer months. Prices are usually a little bit cheaper outside of these months from Autumn to Spring and temperatures still remain very mild. This off-season might be the ideal time to visit if you plan on doing some walking in the local area. However, the resort is most vibrant during the summer so we recommend a visit then.

As well as simply lounging and relaxing on the beach, visitors can take advantage of the local sports facilities that include several volleyball courts and football pitches. 6pm onwards is probably the best time to visit this beach as the sun starts to dip, beach-goers and joggers emerge from their siestas and the whole atmosphere around the place is alive with people having a great time. Although the water is great for swimming, there is hardly any surf for water sport activities or particular diving spots worth mentioning.

There are a selection of waterfront hotels to choose from at Playa del Cable and most of them are very reasonably priced. You can opt for accommodation that has catering options to choose from or simply go self-catered. If you do choose a self-catered stay, be sure to try out the beach's authentic Spanish restaurant at the western end of the beach. There are also some lively beach bars to choose from but not a lot if you prefer more of an English scene.

If you are looking for a low-cost holiday to Playa del Cable in Lanzarote, we can certainly help. Cheekytrip is a price comparison site with holiday offers from over three dozen travel companies. Since they are all competing for your business, prices tend to be very competitive. To find the best deal, simply enter your dates, destination and point of departure into our search engine and within a matter of minutes, we'll find you the ideal Playa del Cable holiday. As offers and prices change daily, it's best not to delay so go ahead and book now!