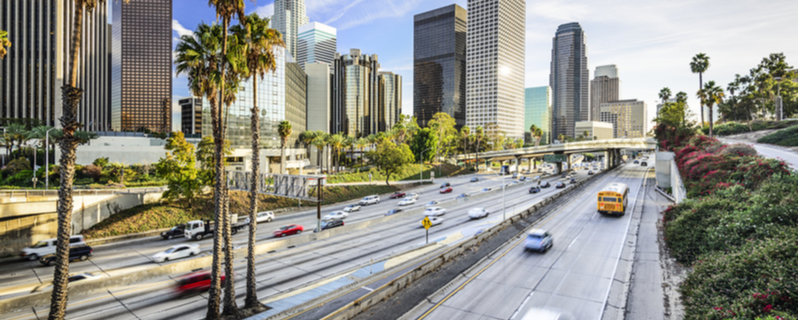 Los Angeles' reputation precedes it and it needs very little introduction. The City of Angels is the world's biggest base for all things television, motion picture, music and A-list celebrities. Los Angeles is the second most populous city in the whole of the United States with over 18 million people spread across its county. Even away from the showbiz, Los Angeles is a stunning destination due to its Mediterranean climate and famous beaches.
Exclusive Holidays to Los Angeles

Exclusive holidays to Los Angeles are available from most major airports in the UK and since the route is so popular with jet-setters from all over the world, there is no shortage of flights to get you there. Los Angeles is very easy to reach with international flights from all over the world arriving into Los Angeles International Airport every day. Make sure you check the CheekyTrip comparison site for more great deals to some of the most famous destinations on the planet. Flight duration to L.A. usually lasts around 11-hours.

The best time to visit Los Angeles is generally considered to be from March to May and from September to November. These are the times when the weather is calm and steady and the crowds are (slightly) less busy than other times of the year. However, because of the popularity of this mega city you will struggle to find a time when it isn't bustling with activity. L.A. tends to experience a bit more rain from January to March but outside of these months, you are in with a great chance of some fabulous weather.

There is so much to do in Los Angeles that it is difficult to know where to begin. Your best way to navigate the city and all of the things to do is to understand what is on offer in each district. Downtown L.A. features the central business district and is also home to museums, art venues and trendy bars and hotels. Hollywood is the heart of the entertainment industry and features movie premieres, tourist attractions and the famous Hollywood sign. Northwest L.A. also deserves a mention here offering a funky side to the city with its zoo, rapidly gentrifying neighbourhoods and trendy cafes.

Unsurprisingly, the city of Los Angeles offers every accommodation type under the sun. From some of the fanciest and most expensive hotels in the entire world to cheap hostels and apartment-hotel crash pads, there really is something for everyone depending on your personal budget and preferences. We recommend Hollywood for sight-seers, Beverly Hills for luxury and Venice or Santa Monica for sun and beach. The same is true for dining out, with L.A. being one of the best places in the entire country for getting food. Anything from Michelin-star restaurants to tasty taco trucks to traditional American diners, you will find it all in this busy and buzzing city.

If you are looking for a budget-friendly getaway to Los Angeles in California, we can certainly help you out. Cheekytrip is a price comparison site with holiday offers from over three dozen travel companies. Since they are all keen for your business, prices are very competitive. To find the best deal, simply enter your dates, destination and point of departure into our search engine and within a matter of minutes, we'll find you the ideal L.A. holiday. As offers and prices change daily, it's best not to wait around for too long. Go ahead and get booking!
---
Share this article
Advertisement