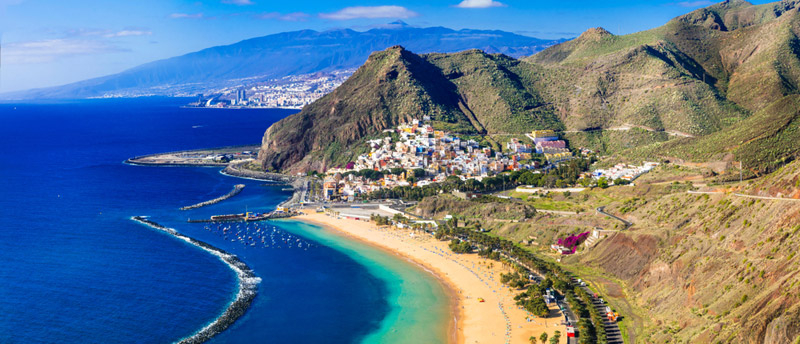 Santa Cruz de Tenerife is both the capital of Tenerife and its largest city. It also accompanies Las Palmas as the capital of the Canary Islands. It is therefore fairly unsurprising that this resort pulls in tourists from all backgrounds every year looking to lounge on the beaches, explore the city and enjoy the wonderful climate.
Cheap holidays to Santa Cruz

Cheap holidays to Santa Cruz are already very popular and the region can be reached from most airports in the UK. The resort of Santa Cruz is easily accessible from both the island's north and south airports. Make sure you check the CheekyTrip comparison site to find cheap holidays to Santa Cruz from your local airport. Direct flights to Tenerife tend to be around 4 and a half-5 hours long.

The resort of Santa Cruz is at its most lively during the summer period that runs from Spring until Autumn and since it is the capital city, tourist numbers are quite high all-year-round. Temperatures tend to reach the mid-high 20s throughout the summer months and drop into the teens in the winter months. Prices are usually a little bit cheaper outside of these months from Autumn to Spring and this actually might be a great time to visit if you prefer walking around in more comfortable daytime temperatures. This makes Santa Cruz a fantastic destination to visit, no matter the time of year.

One of the best things to do when visiting Santa Cruz is to head down to one of its pristine beaches. The largest and most popular is Las Teresitas which has calm waters for swimming in and plenty of facilities. A smaller, quieter alternative would be Las Gaviotas which features distinctive black sand and plenty of nudists! Venture into the city centre and you will find a selection of museums with fascinating exhibits as well as a small planetarium/science centre which is a big hit with the little ones. If you like carnivals, you might want to book your holiday for February as Santa Cruz hosts the second biggest carnival in the world here annually (1st is in Rio de Janeiro) and it attracts around 1 million visitors!

There is a very wide selection of accommodation options in Santa Cruz to suit whatever budget or preferences that you are working with. There are swanky, all-inclusive hotels, self-catered apartments and villas, cheap hostels, bed & breakfasts, you name it! The cuisine is also varied with Canarian food, Spanish food, seafood and fast food all on the menu here.

If you fancy a low-cost holiday to Santa Cruz in Tenerife, we can certainly help. Cheekytrip is a price comparison site with holiday offers from over three dozen travel companies. Since they are all competing for your business, prices tend to be very competitive. To find the best deal, simply enter your dates, destination and point of departure into our search engine and within a matter of minutes, we'll find you the perfect Santa Cruz holiday. As offers and prices change daily, it's best not to delay so go ahead and book now!
---
Share this article
Advertisement