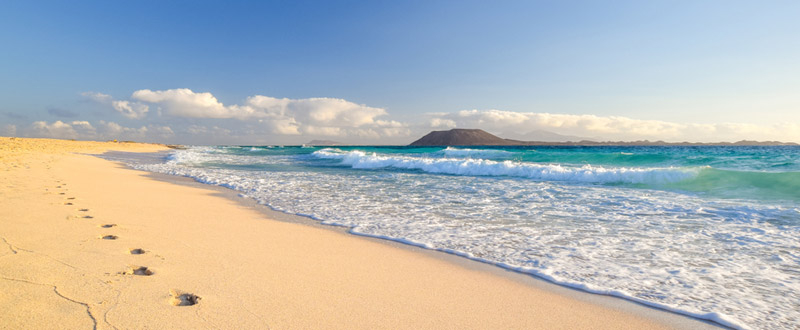 Lajares is a trendy surfing village in Fuerteventura that sits right next to other popular resorts surfy resorts such as Corralejo and La Pared. The town is fairly isolated and you can choose either the easy road route to access it or challenge yourself and see some incredible sights by taking a hike from Corralejo along the island's volcanoes. Lajares is a great tourist destination for travellers of all types including families, couples and solo adventurers.
Low cost holidays to Lajares

Low-cost holidays to Lajares are available from most major airports in the UK and since the route is so well-loved by tourists, there is bound to be a departure time that suits you. Lajares is fairly easily accessible from the island's main airport. Make sure you check the CheekyTrip comparison site to see low cost holidays to Lajares from your local airport. Flight duration to Fuerteventura is around 4 hours long meaning you can arrive at your destination in the morning and still have the rest of the day ahead of you!

The most popular period in Lajares is the Spring to Autumn period with temperatures often reaching the mid-high 20s throughout these months. Not only is the area at its vibrant best during these months but prices are still very reasonable. While there will still be a decent selection of things to do in the off-season, Lajares definitely doesn't see the same level of activity as the summer. The temperatures are often a bit cooler in the autumn/winter months too making it an ideal time to explore Lajares a bit more, especially the incredible volcanic hiking routes.

One of the best things to do in Lajares is to take advantage of the impressive surf and water sport spots it has to offer. Even if you are just a beginner, there are plenty of diving, surfing and even kiteboarding schools offering a variety of day trips or full courses. When you aren't chilling out at the beach or riding the waves, it is a good idea to check out many of the quirky cafes around the island where there is a complete blend of locals and tourists enjoying snacks and drinks.

There is a fairly solid selection of accommodation options in the resort of Lajares. A few budget hotels/hostels might be ideal for you or perhaps consider having a look at their choice of private villas which often come with some fantastic facilities and stunning views of the surrounding area. The best places to dine are either down towards the beach or in the town's vibrant centre. Here you will find everything from tasty snacks to some of the best meals in the local area!

If you are looking for a low cost holiday to Lajares in Fuerteventura, we can certainly help you out. Cheekytrip is a price comparison site with holiday offers from over three dozen travel companies. Since they are all keen for your business, prices are very competitive. To find the best deal, simply enter your dates, destination and point of departure into our search engine and within a matter of minutes, we'll find you the Lajares holiday that works for you. As offers and prices change daily, it's best not to wait around for too long. Go ahead and book now.
---
Related Pages
Share this article
Advertisement